Watches
Hands On With the New Breitling Smartwatch
The Exospace B55 is a chronograph that connects to your smartphone.
by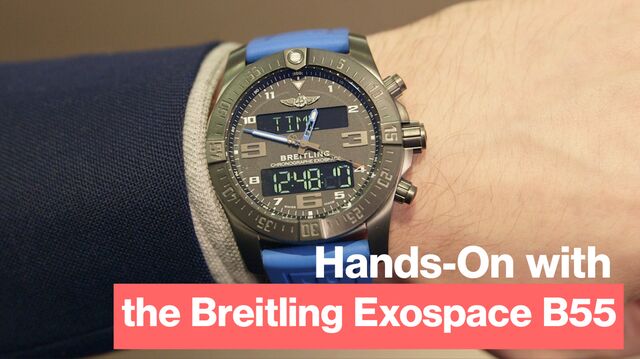 The age of the luxury smartwatch is upon us.
As recently as a year ago, high-end watchmakers were shrugging off the just-announced Apple Watch, calling it ugly, a fad, and not very luxurious. But now we seem to be firmly in a period when mainstream Swiss companies are trying in earnest to find their digital footing. TAG Heuer's Carrera Connected Watch is selling so well that the company is ramping up production after just a few weeks. Montblanc's e-Strap lets users get smartwatch features without giving up traditional watches. And brands from Bvlgari to IWC have entered the fray with their own battery-powered products as well.
The new Exospace B55 is Breitling's first foray into the smartwatch market. 

The B55 looks enough like an analog watch to begin with—it sports the usual three hands, bezel markings, etc.—that is, until you spy the pair of embedded LCD screens. Breitling fans will recognize them from the dials of the brand's hybrid offerings, such as the Aerospace chronos, where they function as the displays for extra chronograph timers and alarm functions. Unlike prior watches, though, the Exospace B55 connects to your smartphone. 
Three basic categories of digital functions are at play here: 1) using your phone to manipulate the watch; 2) passing data from the watch to your phone; and 3) receiving data from your phone on the watch.
The first category is the simplest and most useful. Instead of fiddling with the crown, you can set the time, alarms, and display on the watch all from a Breitling app. The second type of functionality lets you use the watch's pushers to activate the chronograph as you normally would, only the data are then passed to an app so you can store, share, and track events over longer periods of time. Finally, those little screens can show you notifications for calendar appointments, text messages, and other info from your smartphone. They're too small to show you more than caller ID info or to let you know to check your inbox, but this is way better than Breitling trying to show full scrolling e-mails on those tiny panels.

The hardware itself is just what you'd expect from Breitling: a large 46 mm, pilot-style watch, rendered in all-black titanium, with a bright blue, thick rubber strap and sturdy, deployant-style buckle. The whole package is lighter than it looks, even if the 46 mm watch is still way too big for most people (forget trying to wear it with a sportcoat or a sweater).
The watch charges through a proprietary USB cable that connects to the side with a magnet. A single charge will get you one to two months of use, depending on how much you're using the backlight (the single biggest drain on the battery).
The connected technology is new, but the movement at the core of the Exospace B55 is one of Breitling's hyper-accurate SuperQuartz movements. These are electronic movements fine-tuned to compensate for such things as temperature and pressure to keep them accurate. Breitling is one of only a handful of brands making this kind of timekeeper, and building off it in this way seems quite logical. There wasn't a single moment using the B55 when I felt like it was a gimmick.

In the half hour or so I had to play with the B55, the experience overall was pretty positive. I expected poorly designed software and a clumsy user experience but didn't encounter either. The watch automatically saves all your data and pushes them to the app the next time you connect the two, so no need to make sure you're using them in tandem at all times. The watch is perfectly functional all on its own; the app just makes using it easier. 
The Exospace B55 is priced at $8,900, clearly signaling that this is meant to be an alternative to another luxury Swiss chronograph, not a sleek smartwatch with a screen. The watch is on sale now, and while it seems to be a sound concept, only time will tell whether this is the luxury Swiss smartwatch customers have been waiting for or whether we've got just another curiosity.
Before it's here, it's on the Bloomberg Terminal.
LEARN MORE