Battle Over Women, Pop Star Sinks Magyar Telekom Contract
by , , and
Company pulled sponsorship on pop star's comments on women

Hungarian government reacts by cancelling Telekom contract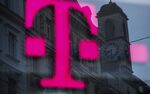 Hungary's government will cancel its mobile Internet subscriptions with the local unit of Deutsche Telekom after the company ended its sponsorship of a pop star who said women should aim to rear children rather than seek pay equal to men.
Magyar Telekom, Hungary's biggest telecommunication company, said Wednesday comments by Akos Kovacs, known to fans by his first name and one of the country's most popular pop stars, were "irreconcilable" with its values of gender equality in the workplace. Laszlo Kover, the speaker of parliament, told ruling party lawmakers the same weekend that "the highest level of self-fulfillment for our daughters should be to bear grand-children for us."
The government's decision, which caused Magyar Telekom shares to drop, also put the spotlight on Prime Minister Viktor Orban's 12-member cabinet, which includes no women and which has been frequently criticized by companies for its interference in the market economy via targeted taxes and acquisitions. Orban has also alienated some European Union peers with his criticism of liberal democracy and opposition to German Chancellor Angela Merkel's open-door policy on immigration.
"This will deepen concerns about government interference in the private sector," William Jackson, a London-based analyst at Capital Economics, said by phone. "It can really reduce the investment levels in Hungary."
Shares Drop

The move to cancel state subscriptions from Magyar Telekom won't affect the government's "strategic partnership" deal with the company, including on the expansion of Internet access across Hungary, Zoltan Kovacs, a spokesman for the government who isn't related to Akos, said by phone on Thursday.
Akos, speaking in an Echo TV interview aired on Sunday, said women should aim "to belong to someone, to bear children for someone, to be a mother."
Canceling a contract because Akos "spoke his mind" is "incredible and contrary to the letter and spirit of the constitution," Zoltan Kovacs said.
Magyar Telekom declined to immediately comment on the government's move. The company's shares dropped as much as 3 percent before closing 2 percent lower at 397 forint in Budapest, the biggest daily decline in almost four months.
Akos Kovacs rose to fame in the early 1990s with a band that played Depeche-Mode-style tracks before launching a solo career that included multiple platinum records, according to a biography on his website. The pop star, who has won Hungary's highest artistic state award and receives state funding, is a public supporter of Orban's government.
Before it's here, it's on the Bloomberg Terminal.
LEARN MORE