Banks Cozy Up to Online Lending Upstarts
Finance-technology startups have gained momentum and raised more than $10 billion this year.
by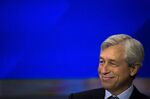 On Deck Capital has had a pretty easy time attracting investments from venture capitalists and convincing customers to try its technology, which makes it easier for small businesses to get loans. Getting buy-in from the big banks has been more difficult.
But having mostly overcome the 2008 financial crisis, Wall Street is finally willing to take risks on high-tech lenders. On Deck spent nearly a decade building its business before JPMorgan Chase agreed to team up with the company this month. On Deck said it will help accelerate the process of offering small business loans to the bank's 4 million customers. "We had to lend $3 billion and prove we could do it really well before the banks felt comfortable with us," said On Deck Chief Executive Officer Noah Breslow.
Lending Club, another online lender founded, like On Deck, in 2006, said it needed to demonstrate security and regulatory compliance before larger banks, including Citigroup and MUFG Union Bank, would go into partnership with it. Online lenders often work with smaller banks and established lenders to issue their loans. Early on, Lending Club's focus was on displacing the banks and only recently decided to strike partnerships instead, said CEO Renaud LaPlanche. "It's been an evolution," he said.
Sensing an opportunity, venture capitalists plowed $10.5 billion into global finance-tech startups during the first three-quarters of 2015, compared with $6.04 billion in all of 2014, according to research firm CB Insights. The banks themselves have started to get in on the funding frenzy by establishing venture capital arms during the past few years. Spain's Santander Innoventures invested in Kabbage, a lending company recently valued at $1 billion.

While investors are optimistic, online lending has recently become the focus of public scrutiny. Syed Rizwan Farook used Prosper Marketplace to arrange a loan a few weeks before he and his wife allegedly carried out the San Bernardino, Calif., shooting. (Spanish bank BBVA is among the San Francisco company's investors, and Citi has sold bonds backed by loans originated through Prosper.) U.S. officials have not said Prosper, which has arranged funding for more than $5 billion in loans since 2006, did anything wrong. The rare tragedy did, however, raise questions about what regulations were in place to govern the fast-growing industry. On Deck has also faced criticism for its sales techniques.
Along with many established players becoming larger, new startups are launched monthly, if not weekly. While some have expanded quickly, others have taken longer to evolve—much to the disappointment of their backers and potential partners. Russia's Sberbank recently discontinued its three-year-old SBT Venture Capital after failing to see the results it wanted, said Mircea Mihaescu, who led that initiative until early December. The bank committed $100 million in late 2012 to the venture arm, which has invested $47 million of that in 11 startups, before deciding to change strategies. "They didn't realize that it takes time for startups to get to the level of maturity where they have more than one or two customers," Mihaescu said. Sberbank declined to comment.
Many big banks, which are embracing tech to reduce costs and attract new kinds of customers, look at startups as future partners or acquisition targets, rather than as lucrative investments. Barclays, Wells Fargo, and Bank of America host or sponsor finance-tech accelerators, awarding cash and guidance in exchange for a small stake in the companies and an ongoing relationship.
For example, Wells Fargo invested in EyeVerify, a Kansas City, Mo., startup that went through the bank's accelerator in 2014. Wells Fargo is now working on incorporating the startup's eyeball-mapping security system into bank operations. "We're not looking for 300 percent and 400 percent returns on our investments," said Braden More, a portfolio manager for the Wells Fargo Startup Accelerator program. "What we're looking for are innovators and ways to connect with them."
Banks may be feeling a newfound sense of urgency. According to a September report by McKinsey & Co., tech companies could wipe out as much as 60 percent of profits on some of banks' financial products. That would come from a mix of decreasing margins and increasing competition. Banks are already seeing a drop in margins, the report said.
Harlan Barcus, chief lending officer at Pacific Continental Bank, said tech startups can offer new ways to generate revenue. The Eugene, Ore., bank, which has $1.8 billion under management, is working with Mirador Financial to test whether the startup can help increase the number of loans Pacific Continental can make without increasing risk. A $2,500 loan can cost just as much to underwrite the traditional way as a $250,000 loan, so many banks will turn away customers looking for small amounts of money. That makes those customers less likely to choose that bank for future transactions, Barcus said.
Mirador, which raised $7 million in November from such investors as Core Innovation Capital, is teaming with more than a dozen banks besides Pacific Continental. The Portland, Ore., startup makes online lending services that banks stick their brands on and offer to their customers. Barcus said Pacific Continental approaches startups, including Mirador, with a specific request: "We don't want to do bleeding-edge technology," he said. "We just want it to work."
Before it's here, it's on the Bloomberg Terminal.
LEARN MORE