What Critics Think About the New Star Wars Film
Spoiler alert: (Almost) everyone loves it.
Bloomberg News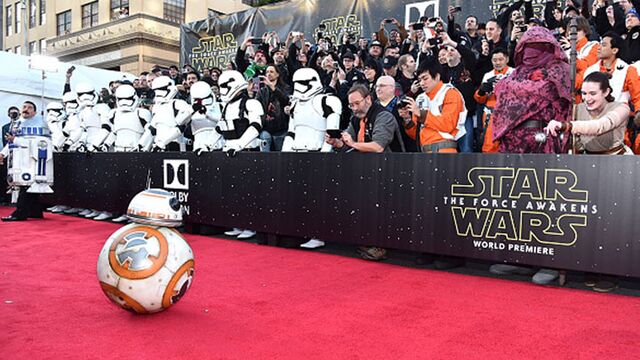 After months of anticipation, a flurry of merchandise and massive demand for tickets that crashed websites selling them, Star Wars: The Force Awakens, has finally hit the big screen.  But does it live up to the galactic hype? 
Here's a roundup of reviews.
The New York Times
The verdict: The movie is good. Director J.J. Abrams—described in the review as the love child of George Lucas and Steven Spielberg—"hasn't made a film only for true believers; he has made a film for everyone (well, almost)." 
BBC
The verdict: It's enjoyable but there's far too much going on. "When you stuff a trilogy's worth of lightsaber duels, dogfights, revelations, deaths and victories into one film, they lose some of their – what's the word? – force."
Vanity Fair
The verdict: It's a great homage to the original style, going for less glitzy special effects. "The Force Awakens finds just the right path through reverence and respect to find invention, ushering a new generation into its galaxy of iconic visuals and reliable heroes by raising the epic stakes."
The Guardian
The verdict: Five stars. Enough said.
The Los Angeles Times
The verdict: It's a hit and miss. That's because, the review says, "Abrams and company needed to please different masters and satisfy diverse audiences in this story." 
CNN 
The verdict: Definitely satisfies hardcore Star Wars fans. The reviewer writes: "This fanboy is happy to report that it appears that Star Wars—like the Force itself—looks to be with us ... always."
The Daily Beast
The verdict: A great reboot all around, with plenty of girl power. "Alongside (Carrie) Fisher's still-iconic Leia, (actress Daisy) Ridley emerges as one of the year's best heroines, given a destiny that will be a promising one to follow in films to come."
Wired
The verdict: It redeems decades of misfires in the Star Wars saga. "If you loved Star Wars once, everything you loved is back. And if you're new? Welcome home."
Before it's here, it's on the Bloomberg Terminal.
LEARN MORE