Valeant Pharmacy Fallout to Cut 2016 Profit by $500 Million
By and
2016 adjusted Ebitda will be $6.9 billion to $7.1 billion

Drugmaker hosting investor meeting in New Jersey on Wednesday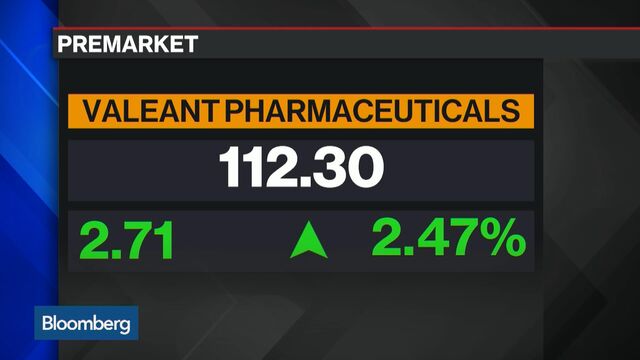 Valeant Pharmaceuticals International Inc. said that the fallout and remedies from its relationship with a controversial mail-order pharmacy, Philidor Rx Services, will slash hundreds of millions of dollars from the company's earnings this quarter and next year.
The drugmaker said in October that it was ending its relationship with Philidor, which used aggressive business practices to push Valeant's products. Lower prices for drugs, retention bonuses to keep workers at the company after disruptions to business, legal fees and a new patient access program will cut about $500 million next year from the company's adjusted Ebitda, or earnings before interest, tax, depreciation and amortization, Valeant said in a presentation to investors Wednesday.
As a result, adjusted earnings will be $6.9 billion to $7.1 billion next year, down from the $7.5 billion that the drugmaker predicted on Oct. 29.
The shares rose 2.9 percent to $112.77 at 9:47 a.m. in New York. They had fallen 21 percent this year through Tuesday.
"While some components of the guidance may appear disappointing, we suspect that it is conservative," said Alex Arfaei, an analyst with BMO Capital Markets. He has a market perform rating on the stock.

Before it severed ties with Philidor, the pharmacy was an increasing part of Valeant's strategy, and specialized in helping doctors and patients get access to Valeant drugs even when insurers declined to cover them. The drugmaker said in October that it was cutting ties after former employees alleged that the pharmacy altered codes on some doctors' prescriptions. Philidor has said it only filled prescriptions with the drugs patients and doctors requested.
Fourth Quarter
Dropping Philidor will weigh on fourth-quarter earnings as well. Cutting ties, taking on a new pharmacy partner and changing product prices will trim about $1.50 a share from earnings, the company said. The company has managed to retain 81 percent of dermatology prescriptions since the Philidor split.
Valeant now forecasts fourth-quarter adjusted earnings of $2.55 to $2.65 a share, down from the $4 to $4.20 it predicted on Oct. 19.
The company is counting on the growth of drugs including gastrointestinal treatment Xifaxan and a new pill, Addyi, for women with libido problems. That medication has had about 1,000 prescriptions filled since it was introduced in October, Valeant said.
The company also plans pay down $2.25 billion in debt next year, including mandatory payments and maturities. Valeant, which has its legal address in Laval, Quebec, and is run from Bridgewater, New Jersey, has previously promised to use the "lion's share" of its cash flow to reduce debt, the result of a three-year, $23 billion borrowing binge, as it slows its dealmaking.
The company is meeting with investors in New Jersey on Wednesday. In a statement released ahead of the session, the drugmaker predicted:
2016 sales of $12.5 billion to $12.7 billion
2016 adjusted earnings per share of $13.25 to $13.75
Net leverage ratio of about 4 times pro forma adjusted EBITDA by the end of 2016
Fourth-quarter 2015 sales of $2.7 billion to $2.8 billion, down from previous prediction of $3.25 billion to $3.45 billion
First-quarter 2016 adjusted earnings will be $2.35 to $2.55 a share


Rebuilding Confidence
The drugmaker has already been taking steps to restore investor confidence. It gave investors more direction on Tuesday, announcing a distribution deal with Walgreens Boots Alliance Inc. to help replace Philidor sales. The shares soared 16 percent Tuesday on the news.
The Walgreens pact gives Valeant access to more than 8,000 U.S. retail outlets and cuts prices on certain drugs by 10 percent. By excluding wholesalers, it also lowers costs for Valeant and Walgreens.
The drugmaker also set up an ad-hoc committee of its board on Oct. 26 to look into the company's dealings with Philidor. One of the group's members, Norma Provencio, has attracted criticism for her previous membership on the board of a company brought down after years of fraud. Valeant hasn't said when the committee will present results.