Valeant CEO Said to Be on Democrats' List for Drug Price Hearing
By
House committee will hold drug pricing hearing early next year

Lawmaker writes Valeant CEO threatening subpoena for documents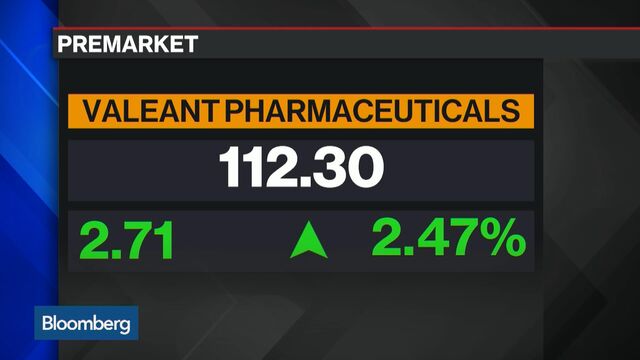 Mike Pearson, chief executive officer of Valeant Pharmaceuticals International Inc., is being sought by Democrats to appear before the House Oversight Committee in the coming weeks to address price hikes on older drugs, according to a staffer with the party's committee members.
Committee Chairman Jason Chaffetz has said he will hold a hearing on drug pricing early next year, though his office hasn't given an exact date. MJ Henshaw, a spokeswoman for Chaffetz, didn't comment on possible witnesses, saying the hearing list hasn't yet been released.
Representative Elijah Cummings of Maryland, who's leading committee Democrats investigating the companies, has asked Valeant for more information on price increases since at least August. The congressman wrote Pearson again Tuesday reiterating his request that the company provide documents or make employees available who might know about Valeant's relationship with a mail-order pharmacy. He asked for a response by Jan. 8.
"I request that you comply voluntarily with this request so that a subpoena will not be necessary," Cummings wrote.
Internal Inquiry
The lawmaker also asked Valeant to hand over a report from an internal inquiry formed in late October on the company's relationship with the pharmacy, Philidor Rx Services.
Workers at the pharmacy sometimes changed codes on doctors' prescriptions to ensure they were filled with brand-name products instead of cheaper generics, according to former employees. Philidor said that it only filled prescriptions with medications that doctors and patients requested, but Valeant has said it's cutting ties with the pharmacy.
"We disagree with many of the Congressman's statements," Laurie Little, a Valeant spokeswoman, said in an e-mail. "Nevertheless, we will review his letter and respond appropriately. Valeant has provided information to the committee and will continue to cooperate with requests from the committee."
Cummings also wants to know why Valeant waited until October to disclose to shareholders and the Securities and Exchange Commission its purchase of Philidor in 2014 for $100 million. To replace Philidor's sales, Valeant said Tuesday it signed a pact with Walgreens Boots Alliance Inc. to sell the drugmaker's skin and eye medications at a discount of as much as 10 percent.
Congressional scrutiny has stemmed from price hikes of older medications. Valeant raised the prices of two heart drugs, Nitropress and Isuprel, by 212 percent and 525 percent the day the drugmaker acquired the rights to sell them. Closely held Turing Pharmaceuticals AG, also the subject of congressional scrutiny, bought a decades-old anti-parasitic treatment and increased the price to $750 a pill from $13.50.
FDA Scrutiny
Oversight Committee Republicans led by Chaffetz are scrutinizing the Food and Drug Administration's approval process for generic drugs to determine if it's creating enough competition to rein in drug prices. The Republicans are also asking the FDA for documents related to the agency's priority vouchers for makers of drugs for rare diseases.
The lawmakers asked whether the voucher program has the potential to be exploited, citing the booming market for resold vouchers and the recent purchase of KaloBios Pharmaceuticals Inc. by Martin Shkreli, who is also Turing's CEO.
KaloBios has since agreed to acquire a treatment from another drugmaker for Chagas disease, which is caused by a parasite found in the Americas. The medicine, not yet approved in the U.S., would be a candidate for a priority review voucher upon clearance. That could produce a lucrative return for Shkreli as the vouchers have sold for as much as $350 million.
A spokesman for Shkreli declined to comment.