Valeant CEO Pearson's Defiant New Tone Reassures Shareholders
By and
Shares rise for second day on investor meeting, Walgreens pact

`We're gonna get through this thing,' Pearson tells holders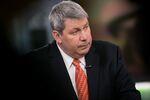 Valeant Pharmaceuticals International Inc.'s chief executive officer urged investors to look past the scandals and questions that have sent the drugmaker's stock down more than 50 percent from its peak this year and said they should focus on products that will grow beyond current expectations.
At a meeting with shareholders, Mike Pearson pledged to provide more transparent data about Valeant's business, including sales figures for its top 30 drugs. But his tone was more defiant than apologetic when discussing the company's strategy, which has drawn scrutiny from lawmakers and investors for its use of mail-order pharmacies, price increases and acquisitions for growth.
"There's a lot of value to be created in this industry and it's not changed much in the last 40 years, and I think we believe it will change a great deal in the next decade," Pearson said. In the drug industry, "people judge how much you spend rather than what new products you have coming out -- I think that will change."
Investors found solace in Pearson's words Wednesday, sending the shares up 7.2 percent even after the company sharply reduced its fourth-quarter and 2016 forecasts. It was another sign that the CEO and his team have managed to steady a ship that was sinking fast just weeks ago.

Pearson took big strides in winning back investors' favor earlier this week by establishing a deal with Walgreens Boots Alliance Inc. to sell Valeant drugs in the drugstore chain's pharmacies at a discount. The pact will go a long way to replacing Valeant's previous mail-order pharmacy strategy, Pearson has said, and it lets the drugmaker associate itself with a well-known partner.
The shares are still down 23 percent for the year as of Tuesday, and it remains to be seen whether Pearson can sustain the current momentum under a heightened level of scrutiny.
An ad hoc committee of Valeant's board is still examining Valeant's previous pharmacy strategy. And lawmakers have shown no sign of backing off of their probes into Valeant. Pearson is being sought by Democrats to appear before the House Oversight Committee in the coming weeks to address price hikes on older drugs, according to a staffer with the party's committee members.
The fallout and remedies from its relationship with a controversial mail-order pharmacy, Philidor Rx Services, will cut hundreds of millions of dollars from the company's fourth-quarter and 2016 earnings. Lower prices for drugs, retention bonuses to keep workers at the company after negative disruptions to business, legal fees and a new patient access program will take about $500 million next year from the company's adjusted earnings.
Adjusted profit will be $6.9 billion to $7.1 billion next year, Valeant said in a statement, down from the $7.5 billion that the drugmaker predicted on Oct. 29.
But Pearson listed other ways that investors should measure the company's performance next year, including whether it:
Retains top managers and makes important new hires
Restores growth to the dermatology business, hard-hit by this year's controversies
Makes gastrointestinal drug Xifaxan its first $1 billion franchise
Wins regulatory approval and introduces three new drugs
Gets sales of at least $100 million for female libido pill Addyi, which has had a slow start this year
Reduces net debt to 4 times earnings before interest, tax, deprecation and amortization, from 6.96 at the end of September


All of those could be tough, especially the last one. Valeant said it will spend most of its cash -- $2.25 billion next year -- just to keep up debt obligations that include term-loan maturities, amortization and $1.6 billion in interest expenses. It'll have to pay down more than that to reach the ratio goal of 4 times debt-to-earnings, Michael Levesque, an analyst at Moody's Investors Service, said last month.
Still, Pearson has managed to assuage investors by setting specific, measurable goals that shift the focus beyond this year's turmoil.
"The financial guidance is getting investors more comfortable that the idea that the fallout from the Philidor situation is containable," Michael Waterhouse, an analyst at Morningstar Inc., said by e-mail. "Having higher-level managers and focusing on healthy parts of the business (which remain most of the company) is helping drive the conversation away from price increases and specialty pharmacies."
In his corner, Pearson has the vocal support of the board, including lead independent director Bob Ingram, the former Glaxo Wellcome CEO who's leading the ad hoc committee investigating Valeant's relationship with Philidor. Investors including Sequoia Capital, Pershing Square Capital Management and ValueAct Holdings have also expressed public support for the CEO, though Pershing Square's Bill Ackman has said Pearson could have done a better job of communicating with shareholders.
Pearson had been contrite in the wake of that criticism, telling investors last month that this year's events had been "a painful learning experience for me personally." On Wednesday, he displayed a bit more swagger, telling investors it was the company's job to prove all allegations against the company false. He declined to take questions from investors on government investigations or the Philidor ad hoc committee.
"If the board wants to fire me they're welcome to fire me, but until they do, we're gonna get through this thing," he said.