U.S. Forwards Show Yellen's Hands Tied on Pace of Rate Increases: Analysis
The market is not in agreement with Fed's dots
by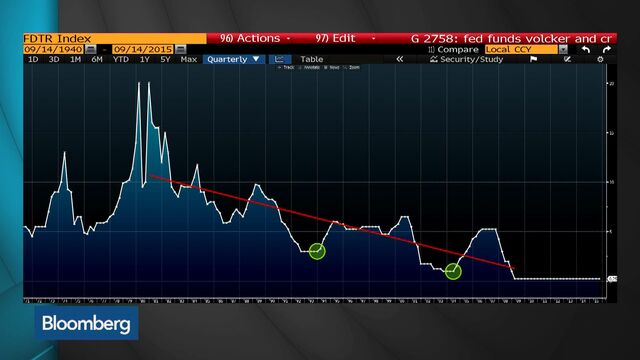 U.S. forward rates have remained out of whack with Fed dot plot and street rate path forecasts as persistent dollar strength clouds growth and inflation outlook in an over-extended credit cycle, Bloomberg strategist Tanvir Sandhu writes.
Although Federal Reserve Chair Janet Yellen has signaled liftoff will start today, two-year forward rates have struggled to pull away from the levels seen when former chief Ben Bernanke's "taper tantrum" caused a spike.
The yawning gap, between forwards pricing and the dot plot as well as economists' forecasts, may narrow as the rise in greenback, increasing volatility and higher yields have tightened financial conditions, preempting any need for an aggressive rate path.
Any pullback in U.S. stocks amid worsening U.S. corporate credit quality may also impinge on financial conditions.

U.S. one-month rate, two-years forward is at 1.64 percent, near levels seen in third quarter of 2013 when yields rose on concerns the Fed may start paring quantitative easing.
Rates market pricing is significantly more dovish than dot plot and corroborates Yellen's "gradual path" comment this month.
DXY has gained 8 percent this year, after rising 13 percent last year, while VIX is at 23 vs year-to-date average of 17.
The dollar has typically sold off when previous hiking cycles had begun.
Two-year yield at 0.95 percent has broken out of stiff resistance vs this year's low of 0.41 percent.
Disinflationary headwinds
Besides dollar's strength, disinflationary risks are also kept alive by selloff in oil and other commodities, as well as slide in emerging market currencies.
Federal Open Market Committee median dots show four hikes in 2016 and five increases in 2017, compared with market pricing of one hike this week, about two in 2016 and two in 2017.
2017 median dot could drop from five to four hikes while the longer-run dot could move lower from 3.5 percent. 2016 median dot to stay at four hikes next year, which may prompt investors to sell front-end rates. However, some dots could mover lower.
2016 median dots were lowered by 1 percent over the past year.
Rates pricing
Eurodollar futures too show that market pricing pales in comparison with dot plot. The spread between 2016 and 2017 December contracts is 52 basis points, compared with 120 basis points for dot plot.
The spread may have room to steepen if Yellen's tone is interpreted as less dovish-than-expected.
The difference between 10-year U.S. and German bond yields also retains room to widen in that scenario during the cycle as it has retraced by 18 basis points from a six-month high of 178 basis points and as the post European Central Bank bund correction may be over.
But spread may narrow via if the Fed induces risk-off and creates an underlying bid for U.S. Treasuries or achieves communicating a dovish hike.
Note: Tanvir Sandhu is a cross-asset derivatives market strategist who writes for Bloomberg. The observations he makes are his own and are not intended as investment advice.
Before it's here, it's on the Bloomberg Terminal.
LEARN MORE