Photographer: David Cannon/Getty Images
Trump Loses Bid to Block Scottish Wind Farm Near Golf Course
by
U.K. Supreme Court rejects U.S. billionaire's lawsuit

Real estate mogul has lost at every level of U.K. court
Donald Trump -- who promised to make Americans winners again in Tuesday night's presidential debate -- lost a bid at the U.K.'s top court to block a wind farm near his luxury golf course in Scotland.
The Scottish government's decision to approve the construction of 11 turbines about 3.5 kilometers (2.2 miles) from the Trump International Golf Links resort near Aberdeen on the east coast of Scotland was made properly, the U.K. Supreme Court unanimously ruled in London Wednesday.
Trump has clashed with Scottish lawmakers over the plans to generate more power from wind turbines, saying his golf courses bring more money to the local economy. The project by Vattenfall AB, Technip SA and Aberdeen Renewable Energy Group will have the capacity to power 68,000 homes. Trump has argued the turbines would ruin the view from his resort on the Menie estate.
"History will judge those involved unfavorably and the outcome demonstrates the foolish, small-minded and parochial mentality which dominates the current Scottish government's dangerous experiment with wind energy," the Trump Organization said in a statement. Trump "will evaluate the court's decision and continue to fight this proposal on every possible front."
Lost Appeals
Trump's appeals have failed in Scottish courts, and now at the Britain's top panel. The European Offshore Wind Deployment Centre was approved by Scottish ministers in March 2013, and the billionaire real-estate developer questioned the decision. The golf-course developers filed the appeal, which queried whether the national government had the right to approve the wind farm, and whether a design statement was properly submitted. The Supreme Court rejected both.
"The EOWDC is an example of the type of development that could help to deliver significant and long-term economic benefits to the region and help to cement Aberdeen's reputation as a global energy city," the wind-farm developers said in a statement. 
Trump, running for the Republican nomination for U.S. president, was attacked by candidates Marco Rubio, Ben Carson, Jeb Bush and Rand Paul in a debate Tuesday night in Las Vegas. GOP consultants said Trump continues to lead the race for the party's nomination.
"Our country doesn't win anymore," Trump said at the debate. "If I'm elected president, we will win again. We will win a lot."
Donald Trump Survives Another Debate as Republican Front-Runner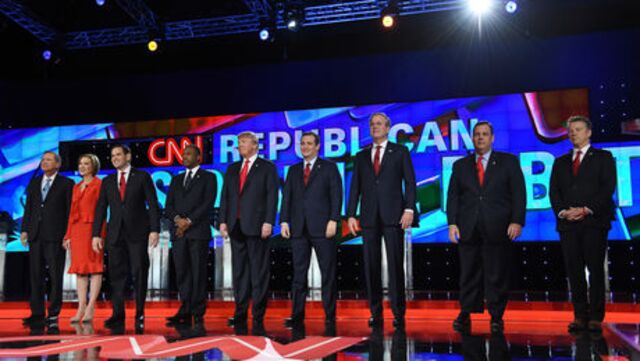 After five Republican presidential debates, Donald Trump's rivals still haven't figured out how to land a fatal blow against their party's front-runner. That was true again on Tuesday, as the New York businessman survived the latest meeting of the party's White House contenders as the discussion focused on the complex issue of foreign policy, a topic on which he's demonstrated little mastery.
Before it's here, it's on the Bloomberg Terminal.
LEARN MORE