Thiam's Grab for Bigger Slice of Asia Pie Brings Costs, Risks
by , , and
Pursuing Asia goals may mean costly hiring, acquisitions

Asia entrepreneurs demand credit to spend, grow businesses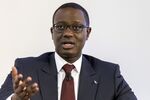 Tidjane Thiam has famously described Asia as a pie that's growing faster than you can eat it. But grabbing a bigger slice is costly and carries risks, raising doubts the head of Credit Suisse Group AG will meet ambitious goals for the region.
"Asia is probably the most expensive region in the world to conduct wealth-management services," said Sebastian Dovey, founder of Scorpio Partnership, a London-based consulting firm. "If they're pinning their strategy on that part of the world, they'll feel a squeeze on their margins."
Thiam, who took over as chief executive officer in July, is seeking to double the amount Credit Suisse oversees for Asia's rich by the end of 2018 after the bank boosted pretax profit from all businesses in the region to 900 million Swiss francs ($902 million) last year. Pursuing those objectives will probably require a costly hiring spree, acquisitions, or both, according to industry analysts interviewed by Bloomberg.
The 53-year-old Ivory Coast native was brought in to rebuild investor confidence and improve returns squeezed by tougher capital standards. Taking a cue from UBS Group AG, he plans to shrink the investment bank and increase reliance on managing money for rich families and entrepreneurs.
The wealth of millionaires in the Asia-Pacific region outside Japan is expected to increase at twice the rate of North America to $75.1 trillion by 2019, Boston Consulting Group said in June. While the prize is alluring, the field is crowded. Credit Suisse is vying with its largest Swiss peers, international banks like Citigroup Inc. and HSBC Holdings Plc and aggressive local firms such as DBS Group Holdings Ltd.

Investors are hoping Thiam can repeat his success at Prudential Plc, where a focus on Asian growth helped the insurer's stock surge during his six years as CEO. 
"We've got a CEO in place who is trying to grow the business, and Asia is one area where they haven't expanded as much as they could do," said Robert Taylor, a fund manager overseeing more than $52 billion at Harris Associates LP in Chicago, which holds about 6.4 percent of Credit Suisse shares.
Share Drop
So far, Thiam's strategic overhaul, including a capital increase, has sent Credit Suisse shares in the opposite direction. The stock has dropped about 12 percent since he outlined his plans in October, while the Bloomberg Europe Banks and Financial Services Index has lost 4.2 percent.
Credit Suisse may continue to decrease as investment bank earnings remain under pressure and growth in Asia disappoints, James Chappell, an analyst at Berenberg in London who recommends selling the stock, said in a research note.

Thiam's predecessor, Brady Dougan, had already sought to woo the region's rich. He tasked Asia wealth chief Francesco De Ferrari with narrowing the gap with UBS, which  oversees about twice the 133 billion francs Credit Suisse manages there and counts three-quarters of Asia's billionaires as clients. Thiam is upping the ante.
"We are getting more capital and more resources allocated to Asia," De Ferrari said in an e-mail. "So we are confident of our ability to deliver our next three-year plan."
To hire top people, he may have to dig deep into the 700 million francs Credit Suisse allocated to invest in its Asia wealth management and investment-banking businesses over the next three years -- part of which is already earmarked for existing information technology projects.
Aggressive Hiring
Credit Suisse plans to add some 280 private banking relationship managers to the about 520 it employs in the region. About a quarter of those may be trainees and some will be former investment bankers who move to private banking, it said. Last month, Credit Suisse appointed its investment-banking chief in the Asia-Pacific region, Vikram Malhotra, to run a newly created unit serving ultra-rich entrepreneurs.
Andreas Brun, an analyst with Zuercher Kantonalbank with a market perform on the shares, said the hiring targets seem overly optimistic.
"There are too few good people to recruit the number Credit Suisse is targeting, and three years is too short a time to train them all," he said.
A relationship manager in Hong Kong or Singapore typically earns $300,000 to $500,000 a year, according to estimates from Boston Consulting.
Winning clients in the region, where entrepreneurs account for the bulk of new wealth, also comes at a cost in terms of lending and capital. Thiam told Bloomberg Television last month that private banks in Asia have to help turn the buildings, plantations and factories owned by billionaires into liquid assets they can spend or invest.
Investment Banking
De Ferrari said he appeals to business owners by offering credit, investment-banking services and structured products that some wealth managers don't provide.
"When you need to service entrepreneurs it's very difficult to do it if you only offer private banking, because that's the last thing they want to hear," he said. "The first thing they want is for you to give them money to help them grow their business."
The volume of loans Credit Suisse provides for ultra-wealthy individuals increased 43 percent to 40 billion francs since 2013, the company said in July.
Asia Acquisitions?
While the capital increase will help the bank extend more credit, slowing economies in Asia, falling commodity prices and declines in financial markets are making the region riskier. The worst quarter for global stocks since 2011 hit trading and saw clients in Asia cut borrowings by "unusually high" amounts, UBS said when it reported results for the third quarter.
One way to expand is to acquire businesses, an approach that can spur staff and client defections at target firms. Barclays Plc has sounded out potential buyers for its Asian wealth business, while BSI, the Swiss private bank Brazil's Grupo BTG Pactual is seeking to sell, has a unit in Singapore.
Credit Suisse's goals assume no major acquisitions, although it is "always open" to deals, Helman Sitohang, the CEO for Asia-Pacific, told Singapore's Business Times in an interview published in October. The company declined further comment on the matter.
"Credit Suisse is not going to do this organically -- they'll have to make acquisitions," said James Anderson, founder of research firm PAM Insight based in London and Geneva.
Before it's here, it's on the Bloomberg Terminal.
LEARN MORE