Spain's Ohio Reveals Anxious Nation as Old Certainties Fade
Maria Tadeo and Esteban Duarte
Election signals end to historic duopoly that governed Spain

Citizens of Aragon divided over loyalties with new options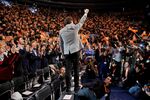 On a sunny morning in Jaca, a small town in northern Spain, pensioners Mariano Campo and Lucas Marquez are arguing again. Usually they fight about soccer -- this time, it's politics.
Retired factory worker Campo has decided to vote for the ruling People's Party on Sunday's ballot. Marquez isn't so sure. What they can agree on is that the sudden emergence of new parties makes them nervous.
"I don't understand what the new guys are about," said the 73-year-old Marquez, a retired military policeman who voted for the PP in the past. "Before there was the right and the Socialists. Now, I'm confused."
Aragon, the region where Campo and Marquez live, boasts both a bustling metropolis and remote mountain villages, and has supported the winner in every general election since 1977. That makes Aragon an electoral bellwether like Ohio in the U.S., according to Lluis Orriols, a political scientist at Madrid's Carlos III University. As goes Aragon, so goes Spain.
Marquez's confusion on the park bench mirrors the national mood. For the first time in a democratic history stretching back, intermittently, almost 150 years, there are four major parties. That signals an end to the duopoly that has framed Spanish politics for more than 30 years as upstart parties gain fans from an electorate still wrestling with the lasting effects of the economic crisis.
Biggest Loser
While all the campaign polls have shown the PP in first place, they've also all forecast the party will suffer the biggest loss of support from the last election, when Rajoy won a record majority with 45 percent of the vote. Pro-market newcomers Ciudadanos and the Socialists are neck and neck for second place, which could give them a legitimate chance to end up running the country anyway. Podemos are close behind in fourth.
That's reflected in the local polls: El Heraldo de Aragon, the region's largest newspaper, showed the PP gaining five seats followed by the Socialists with four, three for Ciudadanos and one for Podemos. Still, nothing is certain as 40 percent of those surveyed were undecided. The poll was based on 1,600 interviews conducted between Nov. 26 and Dec. 1, with a margin of error of 2.5 percentage points.
Average Spaniard
Wedged between Catalonia and Castille, Aragon is home to more than a million people, nearly 70 percent of whom live in urban areas including capital Zaragoza. The unemployment rate is 15 percent compared with a national average of 21 percent while industry accounts for 16 percent of output compared with 12 percent across Spain as a whole.
The region "has a bit of everything," said Orriols, who co-authored the book "Aragon is Our Ohio." "There is a regional sentiment -- not as intense as Catalonia but stronger than in Castille -- these ingredients make Aragon the average Spaniard."
Aragon is also one of the strongholds of Podemos, one of the two insurgent parties that is set to reshape the parliament. The anti-austerity party that rose as a response to the financial crisis now controls Zaragoza's town hall as part of a left-wing coalition. Voters punished the PP for years of corruption scandals and austerity measures.
Podemos slipped in national polls after leading at the start of the year, but has mounted a comeback over the course of the campaign as leader Pablo Iglesias performed well in debates.
"This is the first time I've been truly excited about politics since democracy returned to Spain," said Javier Cabeza, a 61-year-old teacher, outside the party headquarters. "The PP and the Socialists have corrupted the system. This isn't what we fought for, and only Podemos can change that."
'Old Politics'
Across town, supporters of Ciudadanos are also betting on change -- only hoping it's a "sensible" sort that prevails over the radical views of Podemos, said student volunteer Jose Manuel Juan. He voted Ciudadanos in May's regional elections after listening to a speech by Albert Rivera, the 36-year-old party leader of Ciudadanos, which has rocketed in polls.
At party headquarters, the phrase "old politics" comes up in most conversations as does the name Adolfo Suarez, Spain's first democratically elected president following the death of General Francisco Franco. Suarez marked a "before and after" moment in Spanish history and Ciudadanos "can do that too," said Jaime Pablo, a student who previously voted for the Socialists.
New Era
"What's clear to me is that this isn't just another election," said Pablo. "This is the start of a new political era."
Pablo reflects the Socialists' decline in national polls that has upped the pressure on leader Pedro Sanchez as the group risks posting its worst performance since 1933. Still, supporters of the Socialists bet that Spaniards will come to value the reformist agenda of the party on topics including women's rights, gender equality and gay marriage introduced under former Prime Minister Jose Luis Rodriguez Zapatero.
"If you look at Spanish history, social change has always come thanks to the Socialist party," said Maria Villar, 23 and a nurse from Zaragoza.
In the square in Jaca, the argument ran on with no sign of a resolution. Campo insisted his friend had to vote come what may or he'd have no cause to complain about the outcome.
"I know, I know," Marquez said. "But they're driving me crazy."
Before it's here, it's on the Bloomberg Terminal.
LEARN MORE