Shaw Joins Canadian Wireless Fray With $1.2 Billion Wind Deal
by
Cable company is major entrant in Canadian wireless industry

Wind battled for market dominated by Rogers, Telus and BCE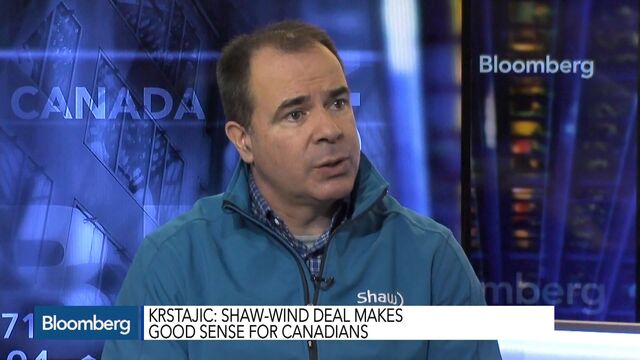 Shaw Communications Inc., one of Canada's largest cable TV providers, agreed to buy Wind Mobile Corp. for C$1.6 billion ($1.2 billion) including debt, jumping into a wireless industry dominated by a handful of major players.
Shaw, which operates primarily in western Canada, gains Wind's wireless spectrum, 940,000 customers and a patchwork of wireless towers in urban centers in British Columbia, Alberta and Ontario, according to a statement Wednesday. The deal provides "the most efficient operating and financial entry point into the Canadian wireless landscape," Shaw said.
The deal targets the growing number of Canadian consumers who, like in the U.S., are increasingly turning to mobile devices for entertainment and information. Wind, owned by private-equity firms, has increased its customer base by 47 percent over the past two years. Still, it remains well behind the country's three dominant players, Rogers Communications Inc., Telus Corp. and BCE Inc. While the Canadian government supported the upstart with access to cheaper airwaves, the big three companies still control 90 percent of subscribers.

"We think a well-funded Wind gives Canadians an opportunity to not have to choose between value and service," Jay Mehr, Shaw's chief operating officer, said in a phone interview.
Quality Gap
Wind had worked to win customers by undercutting its competitors' prices, but with limited funding, it struggled to build out a network that could match its rivals on quality. The company frequently scored low on Canadian surveys of network quality and customer service.
Shaw plans to change that, Mehr said. He wouldn't say how much Shaw intends to invest in Wind but said the company will continue to upgrade the carrier's network to long-term evolution technology, or LTE, which allow faster speed and volumes. Shaw will also work to offer Apple Inc.'s iPhone to Wind users.
Wind is forecast to generate $485 million in 2015 revenue and $65 million in earnings before interest, taxes and amortization, according to the statement.
The deal opens up the possibility of Shaw bundling wireless service with its current Internet and TV offerings, a practice that BCE, Telus and Rogers have also pursued.
"The global telecom landscape is quickly evolving towards 'mobile-first' product offerings," Shaw Chief Executive Officer Brad Shaw said in the statement. The deal will let the company offer a "converged solution" that includes "cable, WiFi, and now wireless," he said. The deal is conditioned on regulatory approval.
Wind was launched in 2009 by Canadian entrepreneur Tony Lacavera. Its current owners include funds managed by West Face Capital Inc., Lacavera's Globalive Capital, Tennenbaum Capital Partners LLC and the family office of Lawrence Guffey.
"We are delighted to announce the sale of Wind to Shaw, one of Canada's premier communications companies with highly complementary consumer offerings," said Greg Boland, CEO of West Face Capital. "Under Shaw's stewardship, Wind's employees and customers will be in great hands."
Before it's here, it's on the Bloomberg Terminal.
LEARN MORE