Messaging Startup Slack Creates $80 Million Fund to Invest in Other Startups
The $2.8 billion software company has more than 2 million users and plenty of cash to invest.
By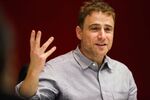 Slack Technologies, a Silicon Valley darling that's raised more than $300 million, wants to give some of that money back. The startup, which runs a popular corporate chat service, is forming an $80 million venture fund to invest in other startups.