Merkel Says Germany Will Push for U.K. to Remain EU Member
by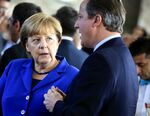 German Chancellor Angela Merkel said her government will work hard to ensure that the U.K. remains a member of the European Union, though the key EU principles of freedom of movement and non-discrimination "are not up for debate."
QuickTake Will Britain Leave the EU?
Getting a deal with Prime Minister David Cameron's government will be "demanding" and whatever accord is reached to allay British demands will have to meet that test, Merkel said in a speech to the lower house of parliament in Berlin on Wednesday as EU leaders prepare to discuss the issue at a summit in Brussels.
"It's not just the U.K. itself that profits from membership," she said. "It's also the European Union as a whole that would significantly lose its impact without the U.K."
Britain is "a natural ally of Germany" in many ways, particularly in terms of seeking economic growth, competitiveness, job creation and strengthening the EU single market, Merkel said.
Before it's here, it's on the Bloomberg Terminal.
LEARN MORE