Major Says U.K. Flirting With Leaving EU Is `Very Dangerous'
by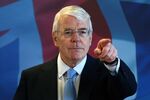 Former Prime Minister John Major warned that leaving the European Union would put the U.K.'s future at risk.
"I'm not a starry-eyed pro-European," Major told BBC Radio 4's "Today" show on Wednesday. "But flirting with leaving at a moment when the whole world is coming together seems to me to be very dangerous and against our country's interests."
Before it's here, it's on the Bloomberg Terminal.
LEARN MORE