Junk Rout Trips Up Longest-Serving Manager
by
Northeast fund run by Ernest Monrad and son loses big on oil

Nuveen, Franklin funds also hurt in rough month for high yield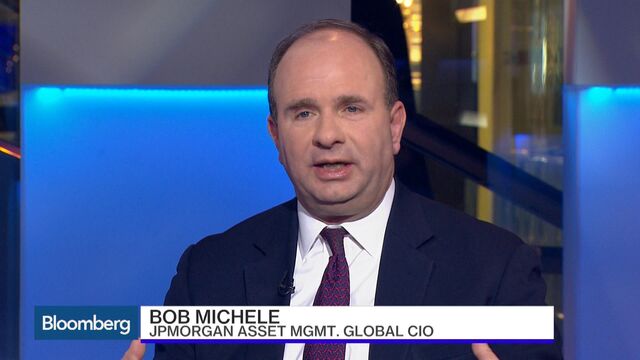 Ernest Monrad has run Northeast Investors Trust since 1960, focusing on high-yield debt before "junk bonds" were a term. Monrad, who is 85 and the longest-serving U.S. mutual fund manager according to Morningstar Inc., outlasted 1970s inflation, the Drexel Burnham Lambert collapse and the 2008 credit crunch.
He's also the biggest loser in an energy-driven high-yield bond rout that prompted comparisons to earlier crises after Third Avenue Management closed a $788.5 million mutual fund and froze client redemptions last week.
The $358 million Northeast fund dropped 8.8 percent in the month through Dec. 14, more than any U.S.-based high-yield credit fund with at least $100 million, according to data compiled by Bloomberg. Other big decliners include such established names as the $5 billion Frankin High Income Fund, which was started in 1969 and lost 5.8 percent in the past four weeks.
"The funds that got it wrong bet on rising oil prices," Sumit Desai, an analyst at Morningstar, said in a telephone interview. "Pretty consistently across all the funds we cover, that was the separation between the funds that did well and the funds that didn't do well."

The BofA Merrill Lynch US High Yield index fell 4.2 percent in the four weeks through Monday. The benchmark hasn't fared worse in a calendar month since November 2008, when it lost 8.4 percent.
Funds recovered some of their recent losses Tuesday as oil prices rebounded, sending the two largest junk-bond exchange-traded funds to their biggest one-day gains in almost a year. BlackRock's iShares iBoxx High Yield Corporate Bond ETF and SPDR Barclays High Yield Bond ETF rose for the first time in four days after hitting six-year lows Monday.
Ernest's son Bruce Monrad, the other manager at Northeast Investors Trust, declined to comment on performance.
'Salient Cause'
The fund had already been reeling from the energy slump. It lost 19 percent in the fiscal year ended Sept. 30, compared with a 3.6 percent decline for the BofA Merrill Lynch index.
"The most salient cause of the divergence was the sharp drop in oil and gas prices and the attendant impact upon the prices of bonds in that sector," Bruce Monrad wrote in the annual report. "When oil and gas prices fell, higher-risk/long-duration securities in other sectors received a tail wind from reduced inflation expectations and lower interest rates."
Fifteen percent of Northeast's portfolio was in the bonds of energy companies including drillers, according to the annual report.
Energy was also among the biggest bets at Franklin High Income and the $387 million Nuveen High Income Bond Fund, which lost 6.6 percent in the month ended Monday. The Franklin fund had 15 percent of assets in energy bonds as of Nov. 30, according to Franklin Templeton's website. The Nuveen fund had 9.9 percent in oil and gas company debt as of Oct. 31, according to data compiled by Bloomberg.
Funds with smaller holdings in energy are also getting caught up in the rout as investors unload speculative debt.
Stone Ridge
Avenue Credit Strategies Fund, an affiliate of hedge fund manager Marc Lasry's Avenue Capital Management, had less than 5 percent in oil and gas as of July 31, according to data compiled by Bloomberg, but still suffered withdrawals of $206 million this month. Assets dropped to $821 million as of Dec. 14 from $2 billion in November 2014, according to Morningstar.
"We have a well-positioned portfolio and our illiquid assets are in the single digits," Lasry said in an interview. The fund slumped 6 percent in a month, extending its 2015 decline to 11 percent as of Monday.
Kathleen Cardoza, a spokeswoman for Nuveen, declined to comment on performance. Chris Molumphy, a fund manager at Franklin Advisers, didn't reply to an e-mail message seeking comment.
Funds focusing on shorter-term debt or other industries such as finance tended to hold up best.
The month's only gainer was the $496 million Stone Ridge High Yield Reinsurance Risk Premium Fund, with 86 percent of its holdings in financial industry debt as of Oct. 31, according to data compiled by Bloomberg. The niche fund returned 0.2 percent in the month ended Monday and was up 5.3 percent in 2015, outperforming 99 percent of peers.
Bank and insurance corporate debt accounted for about 28 percent of the bonds held by the $282 million Henderson Strategic Income Fund, the second-best performer, which declined 0.2 percent in the screening period and gained 1.5 percent this year.
Before it's here, it's on the Bloomberg Terminal.
LEARN MORE