Why Force Awakens Can't Hope to Match the Box-Office Power of the Original
What's stronger than the Force? Inflation
by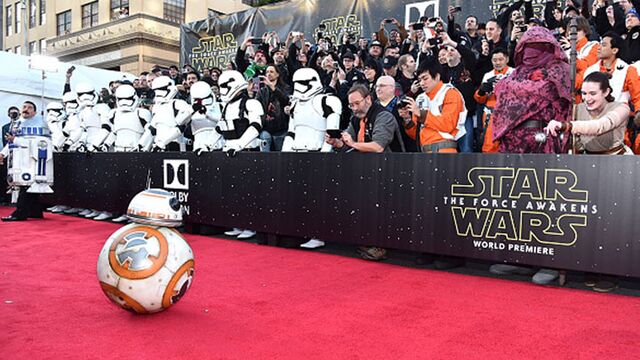 Box-office analysts project that The Force Awakens will easily haul in more ticket revenue than any other film in the Star Wars franchise. The long-running saga's first movie in a decade could very well break the $2.8 billion record set by Avatar in 2009. But that won't give the new blockbuster the same financial force as 1977's A New Hope, the original Star Wars film that launched the series.
The Force Awakens "gets to $1 billion without breaking a sweat," said Paul Dergarabedian, senior media analyst at Rentrak, who sees a chance the movie's box-office revenue will surpass $3 billion. Despite Hollywood's affinity for time-travel tropes, the box-office horse race typically doesn't account for the time-value of money. In drawing up its record books, the industry almost always ignores inflation. This is one of two areas in which the original Star Wars film shines.

A New Hope was a smash success financially, a bona fide blockbuster in the dawn of the blockbuster era. With cinemas screening the original Star Wars for most of 1977 and 1978, the film garnered $512 million in ticket sales. What's truly incredible about that figure is that movie tickets in 1977 cost just $2.23 on average 1 Equally incredible: Star Wars did all this without a robust movie market in China or screenings that charged a premium for 3D viewing. . That means about 230 million people went to see the film, slightly more than the population of the U.S. at the time. "It was an absolute phenomenon," Dergarabedian said. "And it came just after Jaws, which kind of set up the blockbuster mentality."
In today's dollars, the first Star Wars is a $2.4 billion movie, slightly more than what Goldman Sachs expects from The Force Awakens.

The other financial wizardry in the original Star Wars can be seen on the spending side. It was produced for about $11 million, according to IMDb, a cheap budget that in today's dollars would be about $43 million. That's the cost of making a modern movie like Fifty Shades of Grey, not a big-budget special effects showcase.
Richard Rickitt, author of Special Effects: The History and Technique, said George Lucas saved money on the 1977 film by hiring young kids who had been working on commercials and buying decades-old cameras and optical printers from the early days of Hollywood effects. "A lot of their equipment was 50 or 60 years old," he said. "The film cost a lot more than people thought it was going to, but by modern standards it was incredibly cheap."
The coming Star Wars film, with a production budget of about $200 million, is easily the most expensive movie in the history of the franchise. The Force Awakens will recoup that sum in days. And yet in terms of a total return—the kind of bottom line that Hollywood executive producers and Disney shareholders care about—the new movie won't have nearly as much magic as the original.

Ironically, the new film could have been made for far less if J.J. Abrams hadn't taken such pains to honor the initial trilogy. The director eschewed digital cameras for 35-millimeter film and, in many cases, scrapped digital effects techniques for real sets and stunts. "When I first saw Star Wars, I remember being touched by the tangibility of it. The actuality of it," Abrams recently told Esquire. "It just felt real. 2 Walt Disney, Lucasfilm, and Industrial Light & Magic, a special effects company founded by Lucas, did not respond to requests for comment. "
Most blockbusters these days farm out hundreds of special effects to as many as a dozen production companies specializing in computer-generated graphics, according to Eric Roth, executive director of the Visual Effects Society. These shops, in turn, have employees all over the world, not unlike companies that make apparel or software chips.

"Basically, with the advent of computers, you can go on location anywhere," Roth said. "You might have a team of artists working in L.A. all day long. When they go to bed, Asia works on it. They go to bed, Europe works on it."
This brings production costs down. Also helpful: Studios generally get special effects companies to bid on various scenes. "It's a really, really cutthroat business, and the margins are tiny," Rickitt explained. "A lot of people will bid on stuff and take a loss, because they need the work and the prestige."

Star Wars, of course, is now much more than a movie. The overall business includes a vast universe of apparel, toys, video games, and marketing tie-ins that would have been science fiction to imagine in the late 1970s. Analysts from Macquarie and Nomura estimate that in the coming year the franchise will tally $5 billion in merchandise sales, $1.3 billion from video games, $458 million from DVDs and streaming downloads, and $449 million from TV licensing deals.
If those projections prove accurate, only 1 in 4 dollars collected from The Force Awakens will come from the box office. And the prerelease forecasts fail to account for the possibility of revenue from theme parks, which would seem to be a foregone conclusion given Disney's ownership. "This is chess, not checkers," Dergarabedian said. "The tail on this thing could be decades-long."
Before it's here, it's on the Bloomberg Terminal.
LEARN MORE