Fight Clubs, Sleep Deprivation and Angst: Traders Await Fed
by , , and
London bankers fill time in gym before interest rate decision

Nomura bond trader set to be at desk at 4 a.m. in Tokyo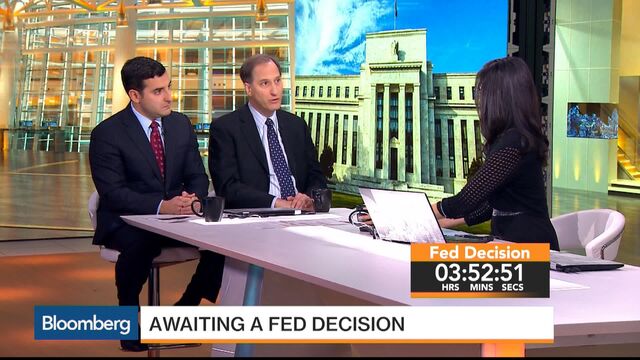 For Alan Clarke, an economist at Scotiabank in London, there's nothing like a little simulated violence to calm his pre-Fed jitters.
Bankers worldwide will be hitting gyms, beating the sun up and burning the midnight oil in preparation for the most hotly anticipated Federal Reserve decision in years.
"It seems a good time just to go and beat the crap out of a punchbag," said Clarke, who plans to spend a few hours at 1Rebel gym before heading back to the office for the 7 p.m. announcement.

Futures contracts show a 76 percent likelihood the Federal Open Market Committee will raise its benchmark rate from near zero for the first time in almost a decade Wednesday. A statement is scheduled for 2 p.m. in Washington followed by a briefing from Chair Janet Yellen, meaning a late finish in Europe and an early start in Asia for those who need to live it in real time.
Higher Volatility
Treasury market volatility climbed to a five-month high Tuesday as traders in Asia and Europe braced for price swings.
"You don't want to do any damage," said Barra Sheridan, a rates trader at Bank of Montreal in London. "That's the biggest risk today, trading in and around these events."
John Gorman, a Tokyo-based bond trader at Nomura Holdings Inc., one of the 22 primary dealers that trade directly with the U.S. central bank, is setting his alarm for an extra early start so he can be ready for the 4 a.m. showtime.
"I feel like I want to be there for it," Gorman said. "It's simply uncharted territory. I think we're going to see volatility as a result."
Expected price swings in the dollar against the euro overnight jumped on Wednesday to almost double this year's average.
But not all markets are feeling the frenzy. 
European traders of gold, a traditional safe haven when markets are volatile, said there wasn't much to do but wait for Yellen.
Trading volume was about 30 percent below average Wednesday and has been under the 30-day mean in all but two sessions this month, Comex data show. 
"I came in two and a half hours late this morning, because we're not expecting the phones to ring much for the time being," said Bernard Sin, head of currency and metal trading at MKS (Switzerland) SA in Geneva. "There's nothing you can do, but sit and wait. A lot of people will be working late this evening."
Before it's here, it's on the Bloomberg Terminal.
LEARN MORE