Economists Favor a PP-Ciudadanos Alliance in Spanish Elections
by and
70% of analysts in survey say pairing best in long term

Polls show no party will get absolute majority in Dec. 20 vote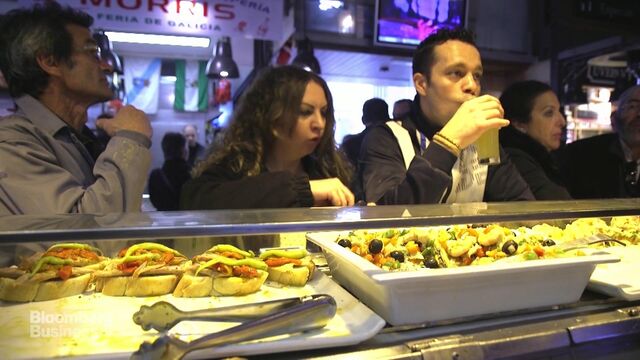 With Spain heading into its most unpredictable election for a generation on Sunday, economists say the best outcome for investors would be if the governing People's Party were forced to rely on support from pro-market Ciudadanos.
Thirteen economists in a Bloomberg survey of 20 say this pairing would be most beneficial for the economy in the short term, and that number climbs to 14 when the analysts are asked for their long-term view. Only a few economists saw benefits in other options, according to the survey conducted Dec. 4-10.

"A People's Party minority is not necessarily the worst outcome, but it is hard to see it being a long-term solution -- Ciudadanos being in power in coalition would be interesting, and probably quite market friendly in theory," said Alan McQuaid, an economist at Merrion Capital in Dublin. "But in reality we won't see the party's true colors until it is in power, and its bite and its bark may be two different animals completely."
Prime Minister Mariano Rajoy is seeking to stay in office for a second term as Ciudadanos and Podemos -- which has an anti-austerity stance -- are set to win seats in parliament for the first time. The next government will need to deal with Catalan nationalists agitating for independence, unemployment above 20 percent and a budget that's been in breach of European deficit rules since 2008.
The average of seven surveys published Dec. 14 -- the last day newspapers are allowed to publish polls under Spain's electoral law -- showed the PP leading with 27.6 percent of the vote, followed by the Socialists with 20.7 percent. Ciudadanos had 19.1 percent and Podemos was in fourth place with 17.3 percent.
Before it's here, it's on the Bloomberg Terminal.
LEARN MORE