Deutsche Bank's Sløk: This Chart Shows Fed Liftoff Is Not a Mistake
You can't knock the U.S. economy's progress.
by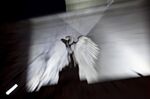 With the Federal Reserve poised to end seven years of near-zero interest rates on Wednesday, it remains an open debate whether monetary policymakers are acting prudently or are on the verge of making a grave mistake.
The core trio of Federal Reserve decision-makers—Janet Yellen, Stanley Fischer, and William Dudley—have long indicated that they believe economic conditions would probably support moving the federal funds rate away from zero by the end of the year.
On the other hand, Larry Summers, the one-time presumptive front-runner to be leading the Federal Reserve at this juncture, has persistently argued that it is too early to be lifting rates. He cites a dearth of inflationary indicators or signs of excessive risk-taking in financial markets.
Due to the lags involved with monetary policy and how it influences real economic activity, it's likely that we won't be able to judge for quite some time who was right.
Without the benefit of hindsight, however, Torsten Sløk, Deutsche Bank's chief international economist, has made the case that the time is right for a rate hike. At the very least, the economic conditions most pertinent to the Federal Reserve's dual mandate of full employment and price stability have normalized to levels consistent with the initiation of the last tightening phase:

Not that everything is coming up roses for the U.S. economy: The Markit Manufacturing Purchasing Managers' Index, for instance, has sunk below where it was when the central bank embarked upon its open-ended bond-buying program. Still, outside the industrial and resource-extraction sectors, the bulk of the U.S. economy continues to chug along smoothly.
"If you think liftoff today is a mistake, then it is because you worry about other things that are not seen in the chart [above], such as turbulence in credit markets, slowdown in emerging markets, and dollar appreciation," wrote Sløk. "The problem with these arguments is, however, that so far they have not had much impact on the [U.S. economic] expansion." 
If the commodity shock and surging dollar haven't produced sufficiently forceful headwinds to prevent the U.S. economy from continuing to make substantial progress in reducing the unemployment rate and moving measures of core inflation higher, the economist concluded, "it is difficult to argue that the Fed is making a mistake by raising rates today."
Before it's here, it's on the Bloomberg Terminal.
LEARN MORE