Delta to Buy Up to 40 Jets in Plan Once Tied to Union Vote
by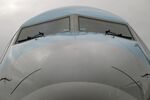 Delta Air Lines Inc. plans to add as many as 40 jetliners to refresh its fleet, reviving a plan that was scuttled earlier this year when pilots spurned a new contract agreement.
"The opportunity was still on the table, and we took advantage of it," spokesman Michael Thomas said.
The aircraft deal will be split between new Boeing Co. 737-900ER single-aisle planes and smaller, secondhand Embraer SA E-190s, Delta said Wednesday. The Boeing craft have a list value of about $2 billion before the discounts that are customary in the industry.
Acquiring E-190s will support Delta's strategy of bringing higher-capacity planes while retiring its smallest regional models. The E-190s seat almost 100 passengers, and Delta has been putting out-of-production Boeing 717s on routes once flown by 76-seat jets, and using those aircraft to replace ones carrying 50 fliers.
While it's too soon to say how they will be deployed, the E-190s' range could handle a route from the U.S. West Coast to a big Midwestern city such as St. Louis, Thomas said. Delta will begin flying them in early 2017.
Delta was set to acquire the E-190s, along with 40 737-900ERs, from Boeing last summer as a sweetener to entice pilots to ratify a tentative contract agreement. It canceled the order when members of the Air Line Pilots Association voted almost 2-to-1 against the accord.
Thomas couldn't say Wednesday why Delta chose to reduce the size of the 737-900ER purchase. The acquisition will boost the airline's count of that mid-range jet to 120 by 2019, according to the company.
Before it's here, it's on the Bloomberg Terminal.
LEARN MORE