Cameron Heads for a Brussels 'Dust Up' Over Renegotiation Talks
By and
U.K. facing opposition over curbs on welfare for foreigners

Prime minister seeking February agreement before referendum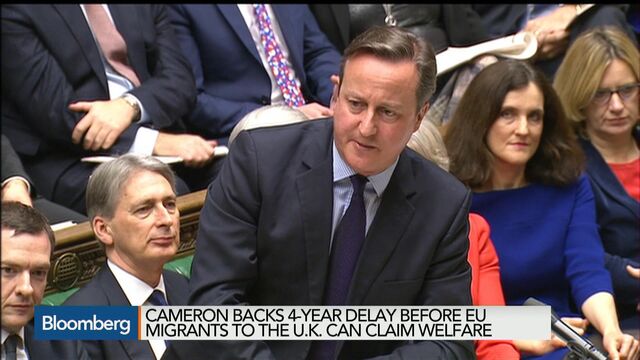 U.K. Prime Minister David Cameron arrives in Brussels Thursday spoiling for a fight.
QuickTake Will Britain Leave the EU?
At a European Union summit, the premier needs to be seen battling for British interests before a referendum on membership promised by the end of 2017. At the same time, he wants to go home with progress toward a deal limiting welfare for migrants coming from the 28-nation bloc. Britain's case for reform will be the main topic of conversation over dinner with fellow leaders.
"The worst thing he could do would be to make people think it's been a walk in the park," said Fredrik Erixon, director of the Brussels-based European Centre for International Political Economy. "Yes, he needs to get a deal but he also needs to be seen to get bruises and to bruise other people -- and the right people."
 
The main sticking point for negotiations is Cameron's commitment to limit in-work and child welfare payments, as well as social housing, to EU migrants who have lived in Britain for more than four years. Several governments have been enraged by the demand -- included in his Conservative Party's election manifesto -- and by his approach to the talks.
'Best Deal'
"What I'll be doing is getting the best deal for Britain," Cameron told lawmakers in the House of Commons on Wednesday. "I say get a good deal for Britain and trust the people."
The U.K. heads into talks seemingly unwilling to concede an inch. 
The four-year block on benefits is the "only proposal on the table," Foreign Secretary Philip Hammond told reporters on Monday, adding that the U.K. is open to other leaders bringing compromise proposals to the meeting. The prime minister's office denied reports that Cameron is ready to abandon the demand in the face of opposition from his European counterparts.
"He's played his hand so badly until now that anything less than a four-year block is going to be met with disdain," said Matthew Goodwin, professor of politics at the University of Kent and author of two books on the anti-EU U.K. Independence Party. "If he can get it, it will allow Cameron to say to moderate voters that he gets their concerns, but if he doesn't give them anything, then it becomes very dicey indeed."
Over Supper
Cameron will get the chance to outline his demands at Thursday's dinner after an introduction by European Council President Donald Tusk. He will not be addressing them cold: the prime minister, Chancellor of the Exchequer George Osborne and Hammond have between them held more than 100 meetings with their European counterparts since the Conservative Party's election win in May.
There is "goodwill of all the parties involved, but it doesn't change the fact that some parts of the British proposal seem unacceptable," Tusk told reporters in Brussels Thursday before the summit. "However, if Prime Minister Cameron persuades leaders tonight that we can work together to find solutions regarding all four baskets, then we will have a real chance to strike a deal in February.''
Britain also has a battery of other requests, from enhanced competition to disengagement from committing to a tighter union. Still, it's abandoned hopes of achieving a deal at the summit, Cameron's office said. What the premier wants to clinch is some kind of political agreement ahead of a make-or-break gathering of leaders next year in two months.
"Discussions are not always fruitless. It's an opportunity to clarify those issues and look for ways of solving them," said Wyn Grant, professor of politics at the University of Warwick. "It looks like the meeting in February is going to be the crucial one."
Domestic Audience
For Cameron, how his actions in Brussels are portrayed domestically matters. Those campaigning for Britain to stay in the EU worry that if the public believes the prime minister wasn't assertive enough in trying to extract better membership terms it will strengthen the hand of those wanting the U.K. to exit.
"This renegotiation is important, but it shouldn't decide whether or not we remain inside the European Union," former Prime Minister John Major told the BBC. "I'm not a starry-eyed pro-European, but flirting with leaving at a moment when the whole world is coming together seems to me to be very dangerous and against our country's interests."
It remains to be seen whether the bloodletting will happen now or later.
Dust Up
"It won't only look like a fight, it will be a fight," said Sir Michael Leigh, senior fellow with the German Marshall Fund and a former European Commission director general. "One scenario is there'll be a dust up now, with an agreement in February; if it proves more difficult than that, then the other scenario is that we'll get the fight in February before a deal in June."
Also on the Brussels agenda is how to cope with refugee flows and tighten border controls -- two other topics likely to trigger dissent.
Opinion polls on voting intentions in the referendum are unclear. While online surveys have shown the two sides neck-and-neck, telephone research has given the campaign to stay in the EU double-digit leads.
A poll published Wednesday by Ipsos Mori for London's Evening Standard newspaper showed 53 percent of respondents backed remaining in the 28-nation bloc, with 36 percent seeking to leave. The pollster interviewed 1,040 adults Dec. 12-14. The 17-point lead for the campaign to stay in the EU is up from 13 points in October.