Brazil's Real Plunges Ahead of New Fiscal Target Announcement
by and
Vale extends three-day gain, while Itau and Petrobras Drop

Five-Year CDS approached highest since 2008 as bonds slump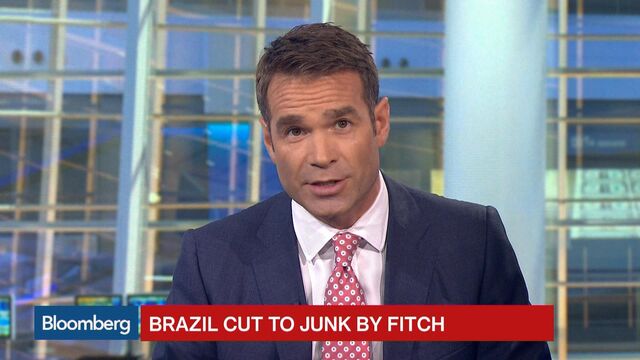 Brazil's real dropped to the lowest in seven weeks after Fitch Ratings handed Latin America's largest economy its second junk credit grade, a move that may compel some institutional investors to dump the nation's assets. The Ibovespa followed gains in global stocks.

The slide in the currency accelerated after Fitch lowered Brazil one step to BB+ with a negative outlook, which implies the potential for further cuts. The Ibovespa erased its losses after the Federal Reserve raised interest rates as predicted by traders and economists. Lender Itau Unibanco Holding SA and oil producer Petroleo Brasileiro SA slumped, while miner Vale SA rallied. Yields on Brazil's $4.3 billion benchmark bonds due 2025 climbed to the highest level since they were issued in October 2013. The cost of insuring Brazilian debt in the credit-default swaps market approached a seven-year high.
Traders have pushed down the value of Brazilian assets this year as President Dilma Rousseff struggles to revive the nation's finances and prevent rating downgrades amid a graft probe, forecasts for the longest recession since the 1930s and calls for her impeachment. Fitch's move follows Moody's Investors Service's warning last week that it may also cut the country to junk, after a reduction by Standard & Poor's in September.
"We all saw it coming, but things are moving faster than expected," Jorge Piedrahita, the chief executive officer at Torino Capital LLC, which trades more than $1 billion per month in emerging-market debt, said from New York. "The concern is the lack of a solution on the horizon. I do not see how Dilma will finish her term, but her stubbornness will cost the country dearly."

The real lost 0.3 percent to 3.8842 per dollar Wednesday, trimming a slide of as much as 2.4 percent. The Ibovespa advanced 0.3 percent to 45,015.84, after earlier dropping 1.7 percent. The gauge still traded at 1.04 times book value, or assets after subtracting liabilities, according to data compiled by Bloomberg. That's about half the average multiple of global stocks.
In its statement, Fitch cited a deeper-than-expected recession, adverse fiscal developments and political uncertainty. The rating cut puts the government in an even more challenging spot as it's already struggling to gain Congress's support to pass measures aimed at shoring up the budget.
Fitch initially gave Brazil an investment grade in May 2008 as economic growth accelerated and the government pledged to shore up the budget and keep inflation under control. Data began to deteriorate under Rousseff's administration in 2011 as spending soared and state-controlled Petrobras became embroiled in a widening corruption investigation.
"We have not seen any significant reversal from very depressed levels of confidence, continue to see political and policy uncertainties and a very difficult situation in terms of the Petrobras corruption investigations," Shelly Shetty, a senior director at Fitch Ratings, said from New York.
Before Fitch's announcement, both stocks and the real had been falling on speculation that the government will lower next year's budget target, underscoring its inability to remedy the country's finances. The move is seen as a potential trigger for the exit of Finance Minister Joaquim Levy. Levy and Rousseff have already agreed that he will leave the government because of their disagreements over policy, Valor Economico columnist Claudia Safatle wrote in the newspaper, without saying where she got the information.
The Finance Ministry and the president's office didn't reply to a phone call and e-mail seeking comment on Levy's status with the administration. The minister told reporters in Brasilia on Wednesday that the downgrade is "serious" and the government needs to act.
"Brazil can't stop, can't wait," Levy said. The government is working to reduce the fiscal imbalances, he added.
Foreign investors have pulled $3 billion from the local stock market in December, according to data compiled by the exchange. Brazil's reserves are virtually unchanged in 2015 at $370 billion. The country's biggest ETF saw a total outflow of $745.6 million this year through yesterday, the equivalent to 18 percent of its portfolio.
Moody's Investors Service last week put the country's Baa3 rating on review for a downgrade, citing the challenges Rousseff's government faces in improving fiscal accounts while a corruption scandal paralyzes Congress. The ratings company said that a turnaround next year appears unlikely.
"Brazil has been suffering with negative news in the past weeks," Marcelo Giufrida, a partner at Garde Asset Management, which oversees 800 million reais in assets, said from Sao Paulo. "So, investors' expectations were divided between 'bad' and 'very bad.' Now, 'very bad' is the most likely."
Swap rates on the contract maturing in January 2017, a gauge of expectations for Brazil's interest-rate moves, rose 0.06 percentage point to 16.04 percent.
Before it's here, it's on the Bloomberg Terminal.
LEARN MORE