Brazil Gets Second Junk Rating as Fitch Cites Economic Slump
by and
Fitch cites recession, adverse fiscal conditions for move

Cut could lead to selloff of Brazilian assets globally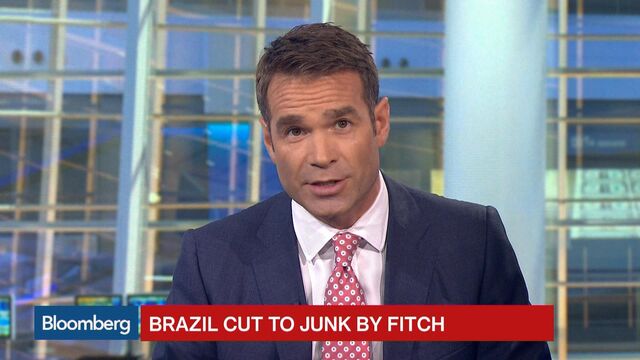 Brazil's credit rating was cut to junk by Fitch Ratings, which became the second major ratings company to strip the country of its investment grade as Latin America's largest economy heads to its longest recession since the Great Depression amid political turmoil.
The outlook for the rating is negative, meaning more downgrades may be coming, Fitch said in a statement Wednesday as it lowered the grade one step to BB+. Brazil's real extended declines, the country's overseas bonds tumbled and interest-rate swaps soared on expectations for higher borrowing costs.

Brazil's economy is contracting, lawmakers haven't shown the will to shore up the budget and efforts to impeach the president are adding to political turmoil and distracting from efforts to fix the situation, Fitch said in its statement. Fitch's move, coming three months after Standard & Poor's cut the country to the equivalent level, may shrink the pool of investors that consider buying the country's securities since many institutions such as pension funds forbid investments in assets rated junk by at least two major ratings companies.
"Brazil was cut to junk as it should be. It is dysfunctional and corrupt and is losing its position in Latin America," said David D. Tawil, the president of New York-based distressed fund Maglan Capital LP. "Assets are going to trade down and I expect higher financing costs across the board."
The rating cut will add to pressure on President Dilma Rousseff and her economic team, who are struggling to gain support in Congress to pass measures to raise taxes and lower spending as she fights impeachment efforts. Fitch first gave Brazil an investment-grade rating in May 2008, when the country was in the midst of a commodities-led boom. The ratings company lowered the rating to the brink of junk in October 2015.
The real weakened 1.8 percent to 3.9407 per dollar as of 10:05 a.m. in New York, bringing its decline this year to 33 percent, the worst in emerging markets. Brazil's $4.3 billion of bonds due in 2025 dropped 1.87 cent to 82.98 cents on the dollar, near the lowest since they were sold two years ago. Interest-rate swaps maturing in January 2017, a gauge of expectations for borrowing costs, soared 0.17 percentage point to 16.15 percent.
"The downgrades reflect a very difficult time for Brazil, with a deep recession combined with a government incapable of making a fiscal adjustment," Luciano Rostagno, chief strategist at Banco Mizuho do Brasil, said in an interview. "From now on, we'll probably see borrowing costs for companies and for the government on the rise, the real will remain under pressure, and the central bank will likely resume interest-rate increases."
Even before Fitch's announcement, Brazil's real and stocks were leading global declines on speculation that the government will lower next year's budget target, underscoring its inability to shore up the country's finances.
Rousseff's supporters on the congressional budget committee will introduce an amendment to the 2016 spending bill that would allow the administration to aim for a surplus before interest payments of 0.5 percent of gross domestic product, said Paulo Pimenta, the government's leader on the committee. Rousseff previously wanted to target a so-called primary surplus of 0.7 percent.
Finance Minister Joaquim Levy and Rousseff have already agreed that he will leave the government because of their disagreements over policy, Valor Economico columnist Claudia Safatle wrote in the newspaper Wednesday.
Rousseff's press office didn't immediately respond to an e-mail seeking comment on Levy's status or the downgrade by Fitch. 
Moody's Investors Service last week put the country's Baa3 rating, the lowest investment grade, on review for a downgrade, citing the challenges Rousseff's government faces in improving fiscal accounts while a corruption scandal paralyzes Congress. The ratings company said that a turnaround next year appears unlikely.
The Supreme Court is scheduled to rule Wednesday on impeachment proceedings against Rousseff, who has been accused of improper accounting related to the government's finances. While investors in the past have been split about whether impeachment would be positive for Brazil, some now say it may be the only way to resolve a months-long political stalemate that has prevented lawmakers from focusing on shoring up the budget and kick starting economic growth.
Before it's here, it's on the Bloomberg Terminal.
LEARN MORE