Bombardier C Series Said Poised to Get Canada Approval This Week
by , , and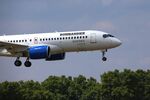 Bombardier Inc. is poised to win certification of the C Series jetliner from Canadian regulators this week, two people familiar with the matter said, a crucial step toward getting the tardy aircraft into commercial service.
The U.S. Federal Aviation Administration and the European Aviation Safety Agency typically approve new aircraft shortly after they are cleared by the country where they were designed and built. The people who described the pending decision by Transport Canada asked not to be identified because the details aren't public.
Winning airworthiness certification from Transport Canada this year would be a rare victory for Bombardier in its $5.4 billion C Series program. The development of the company's largest-ever model is more than two years late and at least $2 billion over budget. Deutsche Lufthansa AG's Swiss unit is scheduled to get its initial deliveries in the first half of 2016 and be the first C Series operator.

"We're on the cusp of getting certification," Bombardier spokeswoman Marianella de la Barrera said Wednesday, without giving a specific timetable. "We always said it would be before the end of the year. Parties are aligned to meet that target."
Transport Canada and the FAA didn't immediately returned messages seeking comment.
Bombardier's 243 orders for the C Series are short of a goal of 300 by the time deliveries begin. Executives including Fred Cromer, who runs Bombardier Commercial Aircraft, have predicted sales would accelerate once the jet is certified.
Before it's here, it's on the Bloomberg Terminal.
LEARN MORE