BOJ Is Done Boosting Stimulus, in View of Half of Economists
By , , and
Board seen keeping policy in place at this week's meeting

BOJ decision to come two days after the Fed raises rates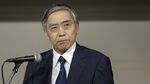 The Bank of Japan won't be expanding its monetary stimulus for the foreseeable future, according to almost half of economists in a Bloomberg survey, with some of them saying they expect the central bank to wait and see if recent signs of economic growth take hold.
The survey was conducted before the Federal Reserve raised the U.S. benchmark rate by 25 basis points from near zero for the first time in almost a decade.
Forty-eight percent of respondents in a Dec. 9-16 Bloomberg poll said they don't expect additional stimulus, up from 46 percent in November's survey. Credit Agricole SA's economist is the only one forecasting further easing at the two-day meeting ending on Friday. Fifty percent still predict the the central bank will loosen policy by April.

Forecasts for additional easing have changed significantly since the much-anticipated Oct. 30 board meeting, when the BOJ kept its asset purchases unchanged while extending the time-frame for reaching its 2 percent inflation target. At the time, 67 percent of economists were expecting more stimulus sometime between Oct. 30 and April next year.
The board hasn't increased stimulus since 2014 and data in recent weeks have included optimistic signs for policy makers. The nation avoided a recession after the economy grew in the third quarter, rather than contracting as previously thought.
Capital spending unexpectedly surged in the third quarter and the BOJ's Tankan survey showed business confidence held up in December, suggesting that Japanese companies' record profits are compensating for uncertainty about the effects of a U.S. rate increase and a slowdown in China.
Inflation Target
BOJ Governor Haruhiko Kuroda has said low oil prices are the reason for inflation missing the bank's 2 percent target. With the central bank's main price gauge falling since August, he has said he's counting on companies to boost investment and wages to stimulate the economy.
Standard Chartered Plc changed its view after the BOJ opted against further easing at the Oct. 30 meeting, said Betty Wang, an economist at the bank, who said she now expects no further easing.
Kuroda has signaled he wants inflation to rise in a balanced way, "indicating that he is in no hurry to push up inflation if wages are not catching up. This differs from his previous stance," Wang said.
In the past few weeks, Kuroda has reiterated his resolve to take action if the inflation trend deteriorates. He said on Dec. 8 that he would adjust policy "without hesitation" if necessary, after saying on Nov. 30 the BOJ would do whatever it could to get to the price target.
Kuroda's recent comments, including that the central bank should be first to act to combat deflation, is a reflection of his desire not to erase expectations for further easing as they have been declining, according to Naka Matsuzawa, chief strategist at Nomura Securities Co. in Tokyo. Matsuzawa doesn't expect further easing, he said in the survey.