U.S. Stocks Slide as Fed-Induced Dollar Rally Sinks Commodities
by and
S&P 500 erases rate-hike gains as resources shares sink

Oil drops below $35 a barrel; gold slumps most since March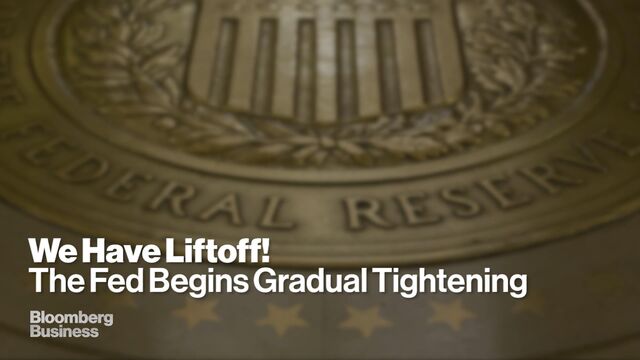 U.S. stocks wiped out gains posted in the wake of the Federal Reserve's interest-rate increase as the strengthening dollar sparked a selloff in commodities, sending prices to the lowest level in 16 years. Treasuries rebounded.
The Standard & Poor's 500 Index snapped a three-day rally as raw-materials producers retreated. Metals tumbled as the rate hike damped their attractiveness versus assets that pay interest, while oil slumped below $35 a barrel in New York. The greenback surged to its highest level versus major peers in data going back to 2005 as the Fed's divergence from other central banks boosted its appeal, while the Argentine peso sank after it was freely floated. Treasuries more than recouped losses sustained after the Fed decision.

While the initial reaction in financial markets to the first Fed rate hike since before the 2008 recession indicated a belief among investors that the U.S. economy is strong enough to withstand higher borrowing costs, Thursday's rout in commodities rekindled concern over the global outlook, fueling anxiety that junk-rated resource producers won't be able to stay solvent. The stronger dollar also imperils the profits of American companies that derive the bulk of their revenue overseas.
"The kind-of euphoria aside over the Fed finally doing something, rates going up doesn't mean good things for stocks," Malcolm Polley, who oversees $1.4 billion as president and chief investment officer at Stewart Capital Advisors LLC in Indiana, Pennsylvania, said by phone. "People are finally realizing, 'Hey, wait a minute. This means the discount rate we use has gone up, so all the values have dropped."'
Stocks
The Standard & Poor's 500 Index reverted to losses, sinking 1.5 percent to 2,041.89 as of 4 p.m. in New York, after rallying 1.5 percent yesterday. The gauge is down 1.4 percent in December, historically its second-best month of the year, and is flat for 2015.
Commodity shares and financial companies were the worst performers as the dollar solidified its ascent and crude oil fell for a second day. Cereal maker General Mills Inc. sank 3.3 percent after its quarterly results trailed analysts' estimates. Oracle Corp. slumped after its revenue missed projections, while FedEx Corp. gained 2 percent after its earnings beat analysts' targets.
"The continued downward, everyday trajectory of commodities is not a good thing," said Walter Todd, who oversees about $1.1 billion as chief investment officer for Greenwood Capital Associates in South Carolina. "You really want oil to move higher and I think the market would move higher in response to that."
The Stoxx Europe 600 rose 1.2 percent, extending gains for a third day. Daimler AG, Volkswagen AG and BMW AG led auto-related stocks to the biggest gain in Europe as export-oriented companies typically benefit from a weaker euro.
in Asia, Japan drove the charge higher with the MSCI Asia Pacific Index closing up 0.7 percent. Stock gauges from Australia to China rallied in the initial euphoria following the Fed's decision.

Currencies
The Bloomberg Dollar Spot Index, a gauge of the currency against 10 major peers, jumped 0.8 percent after closing little changed in the wake of the Fed increase. It has rallied almost 10 percent this year in anticipation of U.S. tightening. Commodity currencies like the South African rand and the Australian and Canadian dollars led losses among major currencies after the rate hike.
Citigroup Inc., the world's largest currency trader, expects higher rates to fuel a dollar rally over 12 months, while France's largest bank, BNP Paribas SA, sees the currency strengthening more than 4 percent to $1.04 per euro by the end of March, analysts at the lenders wrote.
Bonds
Treasuries advanced as Bill Gross said Fed Chair Janet Yellen is overly concerned about inflation and will have trouble raising rates beyond one more increase.
Benchmark 10-year yields dropped seven basis points, or 0.07 percentage point, to 2.23 percent, after rising by three basis points after the Fed hiked rates on Wednesday, according to Bloomberg Bond Trader data.
Bonds benefit from cheaper raw-material prices because they curb inflation and preserve the value of the fixed payments on debt. Longer-term securities are more sensitive to the inflation outlook than monetary policy, helping them to outperform. Thirty-year Treasury yields dropped seven basis points on Thursday to 2.93 percent.
Emerging Markets
Despite the retreat in U.S. equities, emerging-market stocks capped their biggest three-day gain in more than two months, while Argentine's peso led developing-nation currencies lower.
The MSCI Emerging Markets Index climbed 1 percent, as all 10 industry sub-groups rallied. The equity benchmark is still headed for a 17 percent decline this year, its worst annual performance since 2011, amid weakening growth, credit-rating downgrades, corruption scandals and political conflicts across emerging-market countries.
A gauge of 20 emerging-market currencies slipped 0.5 percent, on course for the biggest annual loss since 1997.
Argentina's peso tumbled as much as 30 percent as it was allowed to trade with little intervention after the country scrapped most currency controls. The Mexican peso pared a drop of as much as 1 percent after the nation raised borrowing costs for the first time since 2008. Chile also raised rates Thursday, boosting them for the second time this year.
Commodities
The Bloomberg Commodity Index slumped, falling for a sixth straight day to extend its drop this year to 27 percent, the worst performance since the financial crisis in 2008.
Oil settled at its lowest price since February 2009 after government data showed U.S. crude inventories climbed to the highest level for this time of year since 1930. West Texas Intermediate oil futures slid 1.6 percent to $34.95 a barrel after sinking 4.9 percent last session. Brent fell 0.9 percent to $37.06.
Gold and industrial metals retreated. The materials had already dropped to multi-year lows this year on signs of a slowdown in China, the world's biggest consumer on industrial metals. Higher U.S. rates exacerbate the situation, as they typically bolster the value of the dollar - the currency used to trade most commodities - and reduce the appeal of metals as an investment.  
Gold futures for February delivery sank 2.5 percent to settle at $1,049.60 an ounce after jumping 1.4 percent on Wednesday, as Yellen emphasized any further rate increases will be gradual. Silver slid more than 3 percent with platinum in the spot market.
Zinc for three-month delivery on the London Metal Exchange dropped 1.6 percent after touching its lowest level for more than six years. Copper sank 1.4 percent, while nickel, lead and aluminum also declined.
Before it's here, it's on the Bloomberg Terminal.
LEARN MORE