Asia Won't Have a Yuan Anchor This Time, Unlike 1990s Crisis
by
Expectations mount that China will let yuan weaken over 2016

Risk is that devaluations spread, adding to region's strains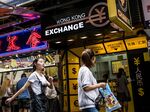 China is casting Asia adrift. At least, when it comes to exchange rates.
That's the view of analysts pointing out the potential implications of China this month moving away from a managed peg to the dollar. Under the previous regime, as the dollar moved, so moved the yuan. China thereby served as a "firewall" when other Asian currencies were collapsing during the region's 1997-98 crisis, then U.S. Deputy Treasury Secretary Lawrence Summers said at the time.
Almost two decades on, with the emerging markets preparing for fresh volatility in the aftermath of the Federal Reserve kicking off a cycle of interest-rate increases, that firewall is now gone. The danger is that it worsens strains for other Asian currencies, particularly those with current-account deficits that need financing, or with dollar-denominated debt to pay off in an environment of a strengthening U.S. currency.
"The dollar anchor is being cast away and the region's economies will hitch themselves to the red-back," said Frederic Neumann, co-head of Asia economics research at HSBC Holdings Plc in Hong Kong, referring to the yuan, also known as the renminbi. "Unlike the late 1990s, however, when China held its exchange rate stable against the dollar and offered other Asian central banks some breathing space, greater renminbi volatility could also lead to great Asian foreign exchange volatility in the coming years."
China's current-day policy makers have faced increasing pressures as their economy's growth slows to the weakest pace in a quarter century. Continuing to keep the yuan linked to the dollar meant the currency on a trade-weighted basis gained by about 12 percent over the past 18 months, according to an index compiled by Westpac Banking Corp.
As the world's biggest exporter, that hurts China. In November, shipments fell for a fifth month. Following up on a surprise effective devaluation in August, China last week published a new yuan index composed of 13 currencies, which will "help bring about a shift in how the public and the market observe RMB exchange rate movements," according to the central bank.
"They want to be mindful of their competitiveness because if the dollar appreciates they want to make sure that their trade is not affected -- so that's why a broader basket of currencies," India's Chief Economic Adviser Arvind Subramanian told reporters in New Delhi Wednesday.
For the region's economies and currencies, it potentially means more volatility at a time when they least need it. Exports are slumping. Indonesia became the latest to flash a warning signal when November trade data showed the country returned to a trade deficit for the first time in a year due to a continued slump in demand for its commodities. And Southeast Asian companies have a wave of dollar debt to repay.
Growth Pressures
China is contending with its own pressures, including demand from Chinese to put a share of their investments abroad, something that's spurred capital outflows. Stephen Jen, co-founder of SLJ Macro Partners LLP in London and a former International Monetary Fund economist, predicts that China will manage partly by letting the yuan depreciate, and partly by running down its foreign-exchange reserves.
The country's international reserves already have declined to the lowest level since February 2013 as the central bank cushioned the yuan's drop. The hoard stood at $3.44 trillion at the end of November, extending this year's decline to $405 billion.
Any material weakening in the yuan raises the risk of a round of competitive devaluation in Asia. When China suddenly changed the nation's exchange rate regime on Aug. 11, the move prompted Vietnam's government to respond by weakening the dong.
"With their export sectors already under stress, a further loss in exchange rate competitiveness against the yuan could increase pressure for other Asian countries to allow their own currencies to decline further against the dollar," said Rajiv Biswas, Asia-Pacific chief economist at IHS Global Insight in Singapore.
Potential Problems
Even so, the PBOC has signaled the use of a currency basket before, only for little to come of it. Besides, the use of basket move won't be without its own problems, especially if the dollar's strength has peaked, said David Carbon, chief economist at DBS Bank Ltd. in Singapore. 
"Going forward, if the dollar fades, the renminbi would no longer fall with it as it needs to do," he said. "China bought in to the basket policy 'at the top.' It should have bought in long ago."
Still, a downbeat economic outlook may force a currency response. Economists surveyed by Bloomberg News say China's growth rate will keep falling until 2018 at the earliest. Yet President Xi Jinping wants gross domestic product gains averaging at least 6.5 percent per year for the next five years. That means the currency will need to play a role, given that trade amounted to 42 percent of China's GDP last year, compared with 23 percent for the U.S. 
"You would struggle to find a country with an altruistic forex policy," Richard Jerram, the chief economist at the Bank of Singapore. "2016 will bring more fractious relations due to growing accusations that China is dumping its excess industrial capacity onto world markets, and significant forex weakness would risk intensifying those complaints."
Before it's here, it's on the Bloomberg Terminal.
LEARN MORE