Acura Seeks to Extend Cadillac-Beating Streak With $150,000 NSX
by , , and
Long-awaited NSX supercar going on sale in first half of 2016

Honda's premium brand poised to top Cadillac in U.S. sales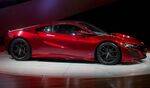 Honda Motor Co.'s luxury Acura marque is poised to celebrate its 30th birthday by outselling every American premium brand on their home turf and unleashing the much-awaited $150,000 NSX supercar.
Acura outsold General Motors Co.'s Cadillac by 5,862 cars and light trucks through November, and topped Ford Motor Co.'s Lincoln by almost 70,000 vehicles, according to Autodata Corp. To stay ahead, Acura will introduce its 573-horsepower NSX in the spring, ending a decade-long wait for the successor to a revered high-performance icon.
While not a volume model, the NSX supercar lends cachet to Acura, which was set up in 1986, before Toyota Motor Corp.'s Lexus or Nissan Motor Co.'s Infiniti. Its sales improvement shows both how American consumers are embracing Japanese luxury brands and the extent of Cadillac and Lincoln's struggles to regain traction despite sweeping overhauls of their lineups.
"We have strong confidence for Acura's future," Tetsuo Iwamura, Honda's executive vice president, said in an interview. "This NSX will definitely contribute to enhance the brand image for Acura and will be a driving force to pull ahead, or pull above, the rest of the model lineup."

Barring a last-month comeback by Cadillac, Acura will finish ahead of the American luxury brands for just the second time in its history, achieving the same feat in 2012. Iwamura declared it "high time" to improve Acura's sedan lineup after it relinquished the lead over Cadillac the following year.
Cadillac has been unable to keep up with other luxury brands' sales growth as it's tried to boost pricing and compete head-on with German automakers, said Eric Lyman, a vice president at TrueCar Inc. Cadillac's models are selling for $52,850 on average this year, while consumers are paying about $39,825 per Acura vehicle, according to TrueCar.
"Halo cars are always exciting for the enthusiasts and the niche people who follow the brands," Lyman said of the NSX. For a customer choosing between Acura or another luxury auto brand, the supercar may not tip the scales in Honda's favor, he said. "The question is, will the presence of an NSX somehow bring them to the table in the first place?"
Honda has taken other steps to improve the brand's standing. It's made Acura a separate division within the company, giving it dedicated management, marketing and other resources, with the hopes of distinguishing its models from Honda in the eyes of consumers.
TLX, SUVs
Acura's biggest leap forward has been made by the TLX sedan, which began sales late last year. The company has delivered 43,572 units in the U.S. through November, topping the Lexus IS and almost doubling sales of Cadillac's ATS.
The Acura SUV lineup, comprised of the MDX and RDX, may also be reinforced. The brand showed a small crossover at the 2013 Shanghai auto show, and earlier this year filed with the U.S. to trademark the name CDX.
"We are studying several possibilities," Iwamura said. "It's too premature to mention that."
Before it's here, it's on the Bloomberg Terminal.
LEARN MORE