Year of the U.S. Mega Cap Won't Be One-Off, Bank of America Says
by
S&P 100 leads S&P 500 this year by widest margin since 2008

BofA analysts see largest companies entering bullish cycle
Shares of the largest U.S. companies are beating the Standard & Poor's 500 this year -- and there's much more to come, according to chart watchers at Bank of America Corp.'s Merrill Lynch unit.
The chart below shows how Paul Ciana, a technical strategist, and Stephen Suttmeier, a technical research analyst, reached their conclusion in a report yesterday. They tracked the ratio of the S&P 100 Index, consisting of 100 of the S&P 500's largest companies by market value, with the broader index for the past four decades. The ratio rose 2.6 percent through yesterday from a record low, set on April 6, as shown in the chart.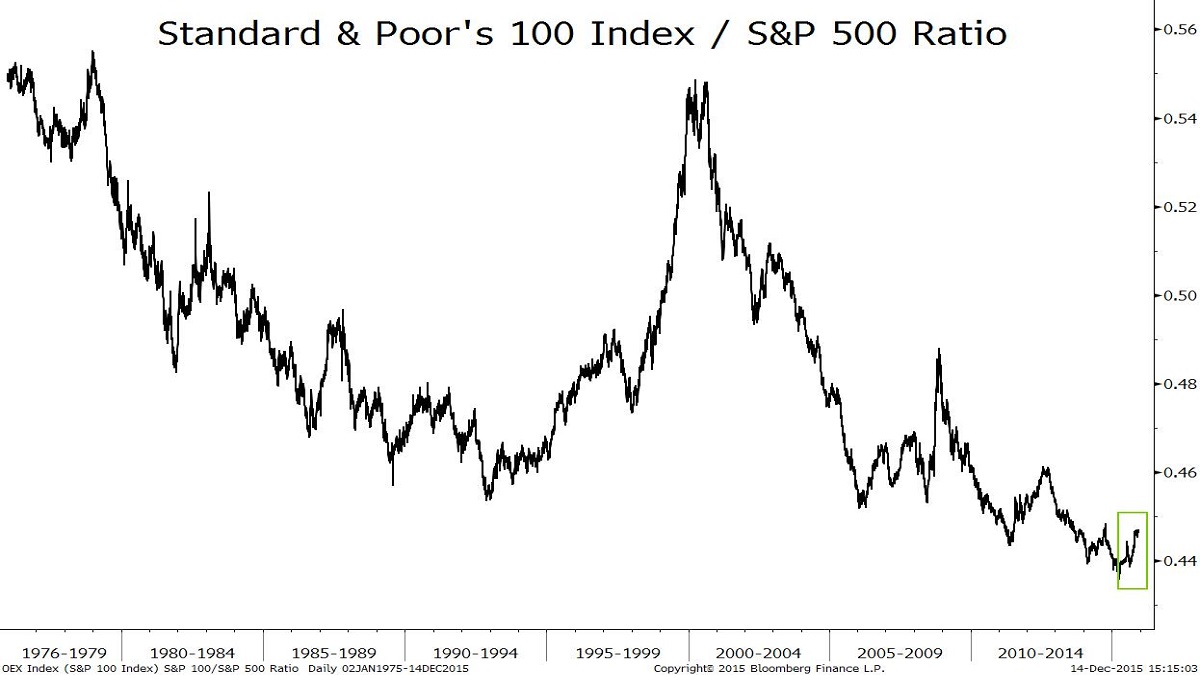 Although both indexes had losses for the year through yesterday, the S&P 100 only fell 0.4 percent, or 1.4 percentage points less than the S&P 500. The gap would be the biggest in its favor for a full year since 2008, according to data compiled by Bloomberg.
Ciana and Suttmeier used the S&P 100 to represent "mega caps," or the largest companies, in their report. The index's components have a median market value of $85.5 billion, according to data compiled by Bloomberg. That's about five times the median value for the entire S&P 500, consisting mainly of "large cap" stocks.
"The cycle for mega caps relative to large caps is turning BULLISH," Ciana and Suttmeier wrote, using capital letters to emphasize their outlook. The New York-based strategists added that next year may be similar to 1995, when the S&P 100-S&P 500 ratio began a surge that carried into the early 2000s.
Favoring mega caps over large caps was one of the analysts' top four trade ideas for 2016, as cited in the report. They also predicted smaller U.S. companies will decline in value relative to larger ones, the British pound will rise versus the Australian dollar, and the gap between yields on five- and 10-year U.S. Treasury notes will widen.
Before it's here, it's on the Bloomberg Terminal.
LEARN MORE