When It Comes to Credit Carnage, It's the Financing, Stupid!
A pullback in repo financing is worsening the bond selloff.
By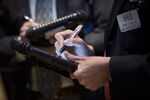 While the focus, when it comes to a lack of liquidity in the bond market, has often been placed squarely on the shrinking amount of bonds on dealer-bank balance sheets, a further change to the banking business is arguably exacerbating the recent downward spiral in debt. That change is the shrinking of the repo business, which involves banks lending their balance sheets to clients and is often described as the great lubricator for financial markets.
The business has been shrinking in recent years. A huge regulatory overhaul has made repo more expensive in the face of various new mandates, including the leverage ratio and the net stable funding ratio, encouraging banks to pull back on their repo business and helping to push repo rates higher.

"Ahead of their balance sheet reporting dates, the large dealers step out of the GCF [general collateral finance repo] market and GCF rates move up," Joseph Abate, analyst at Barclays, wrote in a note late last week. "Although there is strong seasonality in repo borrowings from money funds, it is also important not to lose sight of the strong secular decline in the market. The same forces that are pushing some banks regularly to deflate and then re-inflate their repo balances over quarter-ends have pushed others simply to shrink them outright."
He estimated that some 70 percent of the overnight GCF repo rate's recent increase was due to year-end balance sheet positioning by big dealer-banks.

Buyers of corporate credit often lend out their bonds through the repo market, either to help finance or lever-up their positions to boost their returns. At the same time, repo is also an integral part of banks' prime brokerage businesses, in which they essentially rent out their balance sheets to hedge fund clients that use it to fund various positions. Without abundant and cheap repo financing, it has become more difficult for hedge funds to dip into the market and snap up bargains just as corporate bonds prices have been plummeting. According to Bloomberg data, some $482 billion worth of bonds now yield more than 10 percent following last week's selloff.
"Higher repo costs at the same time that asset prices are falling can cause funds to deleverage and accelerate selling," said David Schawel, portfolio manager at New River Investments. "Looking at it another way, as funding costs rise, all else equal, asset prices would need to fall [and yields need to rise] for an investor to hit the same required return."