Love, War and the Ruble: Get Ready for the Vladimir Putin Show
by
Russian president to speak at annual news conference Thursday

Security issues, economy set to dominate multi-hour event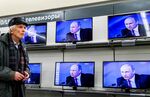 Russian President Vladimir Putin holds his annual news conference on Thursday, when almost 1,400 journalists will get a chance to ask him questions about everything from geopolitics to his personal life.
The event has evolved into a television marathon, with last year's session clocking in at three hours. Putin goes into this year's conference with record-high approval and public backing for the military campaign in Syria. Aside from security and terrorism, he'll probably have to answer questions about the economy after the ruble's fallen more than 6 percent this quarter as oil, the lifeblood of the Russian economy, trades below $39. Russians are bracing for a second year of recession with sanctions still in force. Here are some of the key themes to watch for.
Economic Pain
Russians are feeling the pain of the worst recession since Putin came to power 16 years ago, with annual inflation at 15 percent in November, wages declining the most since 1999 and the ruble weakening against the dollar. The World Bank predicts a significant increase in Russia's poverty rate for the first time since the 1998-1999 financial crisis.
Putin warned during last year's news conference that the slump could go on for two years "under the most negative external economic scenario," and he may remind Russians of those words while offering assurance that the worst has passed.
Syria and Terrorism
Putin has cast Russia as leading the international fight against Islamic State with air strikes in Syria that began Sept. 30. Footage of bombing raids and cruise-missile launches helped boost his popularity at home during a struggle with the U.S. over the fate of Syrian President Bashar al-Assad in talks to end that country's civil war. The threat of terrorism was brought home for Russians when Islamic State said it downed a passenger jet in Egypt bound for St. Petersburg Oct. 31, killing 224 people, in retaliation for the military campaign.
Putin may seek to reinforce the message that he's restored Russia's status as a great power, while calling on the U.S. and the European Union to cooperate with him against terrorism. He may also try to reassure Russians that the state is better equipped to protect them from terrorism than it was 15 years ago, when he built his tough-guy image fighting Chechen separatists.
Turkey

Putin has railed against Turkey's "stab in the back" since it shot down a Russian warplane near the border with Syria on Nov. 24, the most serious clash in decades between Russia and a North Atlantic Treaty Organization member state.
He may deliver more criticism and rally patriotic support for sanctions that include bans on fruit and vegetable imports as well as restrictions on tourist holidays to Turkey, one of the most popular destinations for Russians before the conflict.
Ukraine
It may have been supplanted by Turkey as this year's public enemy while a fragile cease-fire continues to hold in Ukraine's conflict with pro-Russian separatists, but tensions over a $3 billion debt to Russia due this month mean the government in Kiev remains a target for Putin's ire.
With EU officials expected on Friday to consider extending sanctions against Russia for another six months to maintain pressure for implementing the Minsk peace accord, Putin may take aim at the EU and the U.S. over what he sees as their failure to hold Ukraine to its commitments.
Good Czar
While the president's personal life is usually off limits, Putin responded to a question last year about his status as Russia's most eligible bachelor by telling reporters that he has someone he loves in his life and that this person loves him back.
With many of the journalists coming from far-flung regions with questions on burning local issues, Putin often plays the populist card by taking the opportunity to chastise provincial officials for failures to implement projects or meet public expectations.
Before it's here, it's on the Bloomberg Terminal.
LEARN MORE