VW's Europe Market Share Narrows Most Since Emissions Crisis
by
Volkswagen's sales rose at less than one-third of market gain

Ford cited Mondeo sedan, Kuga SUV as helping European growth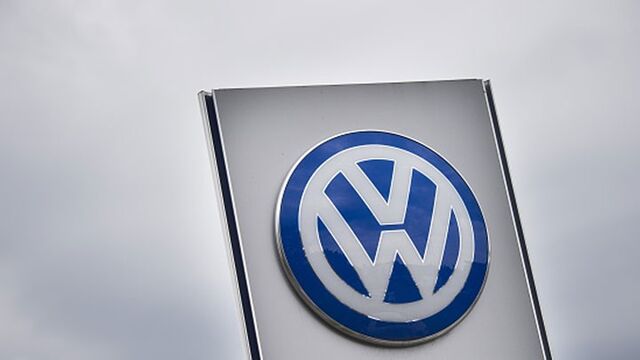 Volkswagen AG suffered its biggest decline in monthly European market share since the German carmaker's scandal over emissions manipulation emerged in September.
With buyers opting for vehicles from Ford Motor Co., Daimler AG and Fiat Chrysler Automobiles NV, Volkswagen accounted for 24.5 percent of European new-car registrations in November, down from 26.8 percent a year earlier, according to figures released Tuesday by the Brussels-based European Automobile Manufacturers' Association, or ACEA.
While Volkswagen still managed a gain, its 4.2 percent growth rate was less than one-third the industrywide increase of 14 percent to 1.12 million vehicles.
Bolstered by new sport utility vehicles, rivals were better able to take advantage of gains in European business and consumer confidence, with car buyers rattled by the revelations of Volkswagen's cheating on emissions tests. The Wolfsburg-based manufacturer plans to start a recall of about 8.5 million diesel-powered vehicles in January as part of the fallout from the scandal. Volkswagen has said the repairs will take at least a year.

"We're only just starting to see the real impact" of the emissions scandal, as current deliveries reflect orders placed as long as three months beforehand, said Carlos Da Silva, manager for European vehicle sales forecasts at consulting company IHS Automotive.
European Recovery
The 2.3 percentage-point drop in Volkswagen's market share in November compares with declines of 0.9 point in October and 0.4 point in September. Sales growth last month was held back by a decline at the group's Spanish brand Seat and weak gains at the namesake VW brand, which is at the center of the emissions scandal.
Volkswagen's market share from January to November slipped to 25 percent from 25.5 percent. The stock rose 2.2 percent to 125.95 euros, narrowing its decline since the scandal to 22 percent.
Volkswagen's struggles mark a stark contrast to a buoyant recovery in Europe's auto market. November marked the 27th straight month of growth, following a six-year slide that ended in 2013. Sales in the first 11 months of this year rose 8.6 percent to 13 million cars, according to the ACEA, which compiles figures from 27 of the 28 European Union countries as well as Switzerland, Norway and Iceland.
German Discounts
Still, the Volkswagen scandal and a push to hit end-of-year targets is having an impact on vehicle pricing. Auto dealers in Germany increased discounts to an average of 12.9 percent off the sticker price last month, the highest level in at least two years, according to trade magazine Autohaus PulsSchlag.
While Volkswagen's incentives climbed to 12.2 percent, competitors were even more aggressive. GM's Opel discounted vehicles by 15.2 percent, Ford by 15 percent and French manufacturers Renault SA and PSA Peugeot Citroen by a combined 14.7 percent.
Ford's European market share widened to 6.9 percent in November from 6.5 percent a year earlier. The U.S. automaker said last week that its Mondeo sedan and Kuga and EcoSport SUVs were among the main contributors to its growth in the region.
The Mercedes-Benz GLA and GLC SUVs as well as new Smart city-car models helped Stuttgart, Germany-based Daimler increase its slice of the European auto market to 6.2 percent from 5.8 percent. The new Jeep Renegade and Fiat 500X crossover pushed Fiat Chrysler's market share to 6.1 percent from 5.8 percent.
Before it's here, it's on the Bloomberg Terminal.
LEARN MORE