Viral Videos Show Pakistan Army Power After Child Slaughter
by and
One-year anniversary of massacre that killed 134 students

Civil-military tensions pose risk to positive economic outlook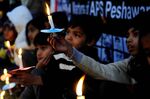 Hundreds of students, some who look as young as six years old, pump their fists in unison on the Pakistan school grounds where Taliban gunmen massacred 134 of their classmates a year ago.
"O mother, those who stole your dreams from you," they sing. "O mother, I have to go and take revenge from them: I have to go and educate the children of my enemies."
The 4.5-minute video released by Pakistan's military is playing on almost every television station to mark the first anniversary of the slaughter on Wednesday. The catchy tune does more than induce patriotism in a wounded nation: It also underscores how the armed forces have reasserted their power since the killings.
The very public resurgence of the military, which has ruled Muslim-majority Pakistan for more than half of its history, has further reduced the power of weak civilian leaders. Analysts see Prime Minister Nawaz Sharif increasingly sticking to economic affairs, with army chief Raheel Sharif holding sway over internal security and foreign policy.
Trouble Brewing
While that arrangement has stabilized Pakistan for the moment, it carries risks just as the nation's economy appears poised to take off on a wave of Chinese investment. Upcoming decisions on whether to grant Raheel Sharif an extension or curtail powers granted to the military after the massacre could trigger a crisis for Nawaz Sharif, who was ousted by a coup in 1999. Facing a similar dilemma, past prime ministers have granted extensions rather than risk a standoff with the military.
"Anything that is perceived as a threat to the interest and power of the security establishment will bring tension," said Faisal Bari, associate professor of economics at Lahore University of Management Sciences. "Whenever the civilians try to push, then there will be trouble."
Optimists see Pakistan's economic growth accelerating as new power plants end crippling power shortages and China pours $45 billion into infrastructure. That will buoy spending from a burgeoning middle class in the nation of 200 million people that has prompted the country's main stock index to double since 2012.
Terrorism Fight
Pessimists say that the government hasn't done enough to raise revenues and tackle corruption, leaving the nation's finances vulnerable as a $6.6 billion International Monetary Fund loan program concludes next year.
No matter what, security remains the foundation for growth. More than 50,000 people have been killed in terrorism-related violence since 2001 -- including the sons and daughters of army officers at the school in Peshawar last year.
"My mother and father call me more than once when I go out, even if it's to the market or to see friends," said Shaheer Khan, 23, a graduate from Peshawar Engineering University, who lost his younger brother Arham in the attack. "They have to take concrete steps to make people believe it's over."
After the massacre, the armed forces and lawmakers agreed on a 20-point plan to curb terrorism. Measures included the creation of military courts, registration of religious seminaries and a renewed effort to end violence in Karachi, Pakistan's biggest city.
A year in, it's having an effect: Militant attacks this year from July to September fell by more than half since the same period in 2013, according to the Centre for Research and Security Studies. Some 302 people have been executed since the school killings, almost as many as in the previous decade combined.
"Terrorists' backs have been broken," Nawaz Sharif said in a speech in Peshawar on Wednesday. "Their training centers and infrastructure have been destroyed."
Dramatic Footage
At the same time, the military has stepped up its propaganda efforts. Last week's music video is a follow up to one released right after the massacre that is played routinely on television and radio stations. Another one featured dramatic footage of soldiers risking their lives to free a group of women and children from militants.
And it's not just music videos. Army-backed television dramas, theatrical plays and feature-length films all boost the image of Pakistan's military. Asim Bajwa, the army spokesman, has 1.6 million followers on Twitter -- more than the prime minister.
The propaganda is creating a generation of Pakistanis with a "deficiency of democracy and politics in their veins," said Ayesha Siddiqa, a defense analyst in Islamabad and author of "Military Inc.," a book that examined the military's business interests.
'Very Good Relationships'
"You can't point a finger and say it's dictatorship so internationally it doesn't hurt your eyes," Siddiqa said. "You're looking at a political government which is taking decisions, but it's not taking decisions. It is the face of those decisions. Decisions are taken somewhere else."
Countries around the world are taking notice. Wherever Nawaz Sharif goes, Raheel Sharif isn't far behind. The army chief met Vice President Joe Biden on a trip to the U.S. last month. In October, Pakistan appointed a recently retired lieutenant general as national security adviser who ended up holding talks with his Indian counterpart this month in a breakthrough.
Musadik Malik, a spokesman for the prime minister, dismissed speculation about tensions between Nawaz Sharif and the army.
"We have very good relationships with the army and with all our armed forces," Malik said. "We believe that we are on the same page."
Opponents Waiting
Even so, political opponents are also ready to pounce. Imran Khan, a key opposition leader, warned in an interview this month of a looming clash between the military and government, noting that "history could repeat itself."
Last year, Khan and thousands of supporters camped out for months on Islamabad's streets in a bid to oust Nawaz Sharif. At the time, the prime minister faced growing tensions with the military over moves to improve ties with India and back treason charges against former ruler Pervez Musharraf, the general who overthrew him. Khan ended the protest a day after the school massacre.
"If conflict between the military and government gets aggravated, the military doesn't need to do anything," said Hasan Askari Rizvi, an Islamabad-based political analyst who formerly taught at Columbia University. "The opposition, reading signals of military's displeasure, will come onto the field to build pressure on the government."
(A previous version of this story corrected the student's name in the 10th paragraph.)
Before it's here, it's on the Bloomberg Terminal.
LEARN MORE