U.S. Unsatisfied With Halliburton Merger Plan
by and
Antitrust officials said to push decision on tie-up to 2016

Halliburton, Baker Hughes had agreed to extend review to today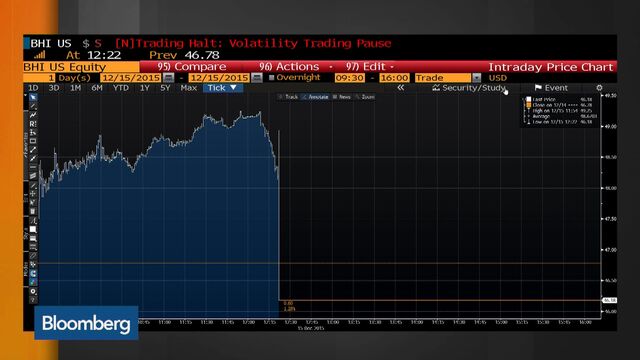 U.S. antitrust officials aren't satisfied with Halliburton Co.'s proposals for clearing its purchase of oil services rival Baker Hughes Inc. and don't expect to announce until next year whether it blesses a deal, according to a person familiar with the situation.
The companies previously agreed to an extension until Tuesday with the Justice Department over the proposed $26 billion merger. The U.S. antitrust officials aren't obligated to complete their review by today, said the person, who declined to be named because the review is confidential.
The companies can't close their deal because antitrust officials in Europe, Australia and Brazil are also reviewing how the merger of the world's No. 2 and No. 3 oil-servicing companies could change the competitive landscape.
When it announced plans to acquire Baker Hughes in November 2014 -- a deal valued at $34.6 billion in cash and stock deal at the time -- Halliburton said it would divest assets with revenue of as much as $7.5 billion. General Electric Co. is in advanced talks to buy the drill-bits and drilling-services divisions of Halliburton, and is exploring bids for other assets, Bloomberg News reported earlier this month.
Spokeswomen for Halliburton and Baker Hughes declined to comment.
Shares of both companies fell in the minutes after the news before recovering. Both were trading above Monday's closing prices. 
Investors likely sold Baker Hughes shares initially on the idea that the Justice Department isn't satisfied with the latest remedy proposal but ultimately found cause for optimism with the notion that regulators won't try to stop the deal today, Rob Mackenzie, an analyst at Iberia Bank in New Orleans, said in a phone interview.
"No action is better than a move to block in court and no action still gives the parties an opportunity to talk about settlement," said Jennifer Rie, an analyst at Bloomberg Intelligence.
Halliburton rose 2 percent to $37.33 at 2:42 p.m. in New York after rising as much as 8.5 percent, while Baker Hughes gained 2.3 percent to $47.85.
If the Justice Department challenges the tie-up and prevails, Houston-based Halliburton will have to pay Baker Hughes a breakup fee of $3.5 billion. 
The companies faced early resistance from U.S. officials, who were concerned the tie-up could hurt competition because it would reduce the top three players to two, a person familiar with the matter told Bloomberg News in July. The officials were concerned even then that the oilfield services industry would become too concentrated and that proposed asset sales didn't go far enough, the person said.
Company representatives met recently with Bill Baer, the head of the Justice Department's antitrust division, who will make the final decision about whether to clear the takeover, Bloomberg reported last week. Such meetings are typically a sign that a merger review is drawing to a close. The government's current position is that the tie-up threatens competition in the industry, the person said.
If the Justice Department is not "comfortable with divestitures to date, that doesn't mean it can't ultimately get comfortable," said James West, an analyst at Evercore ISI in New York, who rates the shares a buy and owns none, in an e-mail.
In November, the company sought European approval for the takeover a second time, four months after regulators rejected an earlier filing on the bid. The EU may open an in-depth probe if remedies fail to allay competition concerns. Australia's competition watchdog has also queried the transaction, and indefinitely postponed its initial decision date of Dec. 17, according to its website.
Before it's here, it's on the Bloomberg Terminal.
LEARN MORE