U.K. Voters Need to Beware Treaty Risks in EU Vote, Panel Says
by
Cameron renegotiation will not deliver legally binding change

`Little evidence' that immigration plans will work: lawmakers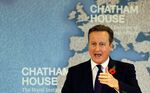 European Union treaty changes are needed to put into effect Prime Minister David Cameron's demands for a renegotiation of Britain's relationship with the bloc, and they can't be completed before the referendum on membership he has promised by the end of 2017, a panel of U.K. lawmakers said.
QuickTake Will Britain Leave the EU?
Other states in the 28-country EU would need to hold their own ratification processes, including referendums, in the case of such changes, and British voters would not know for certain if those amendments will be delivered when they decide on Britain's continued membership, the House of Commons European Scrutiny Committee said in a report published Tuesday.
"We conclude that the negotiation priorities as set out by the prime minister will not deliver the legally binding and irreversible agreement leading to reform of the EU nor a fundamental change in the U.K.'s relationship with it envisaged by him," the panel said. "We regard it as important that voters know, in the absence of completed treaty amendment, the extent to which the outcome of the renegotiations will be definitely legally binding and irreversible."
Cameron will travel to Brussels on Thursday to thrash out the details of his renegotiation with other European leaders. He will focus on fair treatment for countries outside the euro area, enhanced competition, disengagement from a commitment to "ever closer union" and, most controversially, limits to welfare benefits for immigrants from the rest of the EU, his office said. He hopes to reach an agreement by February.
'Little Evidence'
The committee said there is "little evidence" that Cameron's plan to cut immigration by reducing access to welfare would have a significant effect on the number of people moving to the U.K. for work. The prime minister, who is committed to cutting immigration to "tens of thousands" a year, says the availability of state hand-outs encourages Europeans to move to Britain.
"Of the four areas under discussion, the most substantial is the relationship between the euro zone and the non-euro-zone countries, including the U.K. Indeed, it is so important that it absolutely requires the security of treaty amendment to address it," the committee said. "The process of ratification of treaty amendment is unlikely to be completed by other member states before the referendum takes place."
The panel said a "key measure" of success in Cameron's negotiations will be how secure political commitments from other European leaders are and how far promises or guarantees of would be "robust and meaningful."
Before it's here, it's on the Bloomberg Terminal.
LEARN MORE