Photo illustration: Jeremy Allen/Bloomberg; photo: Peter Dazeley/Getty Images
Bars
Meet the App That Makes Nightclubbing Not Terrible
With TableList, an app on your phone pre-books tables and makes getting in easy. And clubs are lining up to sign on.
By
Working as luxury real estate broker in Boston, Julian Jung was used to VIP service whenever he entertained clients at local clubs or bars. Such free-speeding glad-handing earned him gilt by association—friends and clients flocked to serve as his wingman.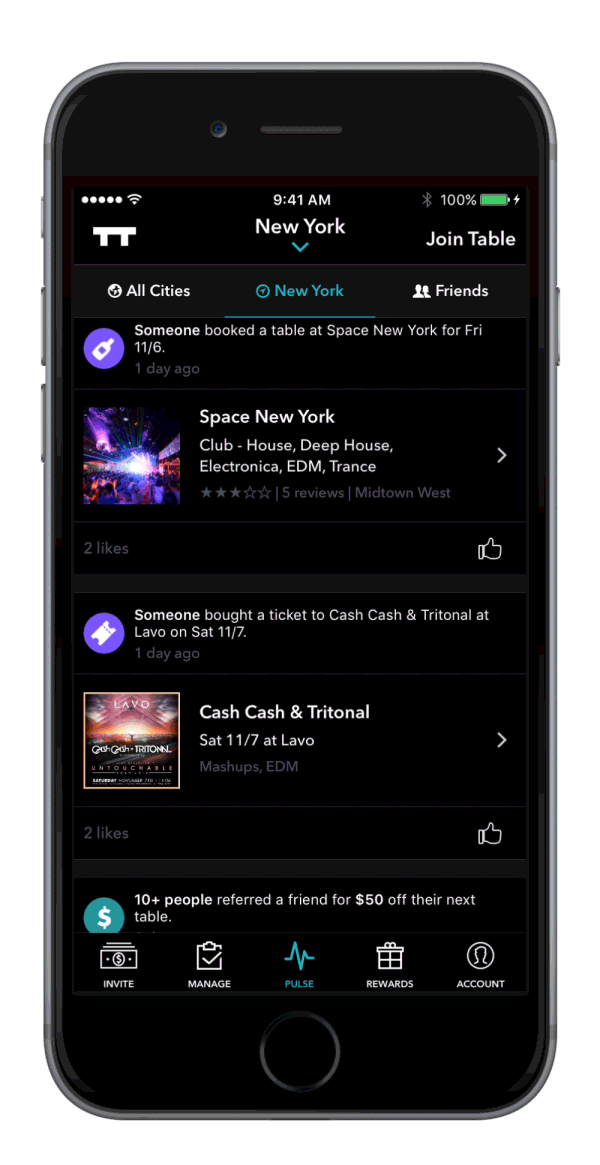 It was a rude awakening, then, when Jung took a vacation to Brazil with friends; his hard-earned access back home naturally counted for nothing at the hottest nightclubs in Florianópolis, and he was relegated to waiting hopefully on line, an after hours nobody. "I was booking everything [else] on that trip using Hotel Tonight and Uber," Jung explains by phone, back home in Boston, "And I thought: what if you could just click a button, and get a table?" So he ditched the life of a broker and launched a startup that did exactly that: he called it Tablelist.
Two years and $4.7m of funding later—including investments from Atlas Ventures and hedge funder Jason Carroll—Jung's app-based nightlife firm is live across more than 200 venues in cities including New York, Las Vegas, Miami and Boston. Its premise is simple: users can reserve bottle service tables at premium bars and clubs directly from their phone without cajoling a doorman or calling a promoter. Each reservation, whether for two or twenty people, comes with a minimum spend (starting at around $500 and topping out at $10,000); it's guaranteed by a stored credit card. The app even allows users to pre-plan check-splitting—so that friend who always disappears to the bathroom at evening's end won't ever freeload again. TableList isn't entirely automated or impersonal though: in each city where it operates, a full-time local staffer, usually a nightlife veteran such as a club manager, who offers live support by text, phone or email throughout the evening.
Building a Club Community
Even better, TableList's user profiles are shared across multiple venues, so loyalists are recognized no matter where they go—a high spender in New York partying in Las Vegas, for example, won't risk the same anonymous treatment Jung received on his trip to Brazil. Feedback from venues also ringfences the customer base, weeding out undesirables and the badly behaved—TableList aims not to be a trick to get guys into clubs who wouldn't normally pass muster. It's part of a growing cadre of companies aiming to use the joint power of data and digital apps to move VIP treatment into the mainstream, including InList, Crème VIP, Chicago's InstaBottles and of course, Seven Rooms.

Even TableList, though, has its own "VIP room," a premium membership tier to which power users can aspire, TableList Platinum.   Jung won't share how that invitation-only status is earned, though it's a combination of cash, cachet and connections from existing Platinum level members. This service is a bit like an airline upgrade, offering better tables and generous, personalized comps. Jung mentions a typical Platinum member; she only drinks one brand of champagne—and a lot of it. "We go all out for her. For her birthday, which is around Christmas, she wants a Santa, elves and Polar bears," he explains, "We'll make sure we take care of that."
Jung's startup was overdue; nightlife has remained largely analog in a digital world, its guest lists and bookings still often collated on scraps of paper or simply memorized. Tristan Wills Griffin, GM of New York's Hotel Chantelle, has been using the system for just over a year. He says that TableList "many times has been the difference between a mediocre night for our tables and a sold-out night."
Good for Clubs, Too

TableList also allows venues to better track guests, as well as broaden their client base. "We wanted to get traveling clientele, and it's a great application to be part of, since New York and Boston are big markets for us," adds Miami-based Nicola Siervo by email; he is managing partner of KNR Hospitality, which runs Wall Miami among others, "We have even decided to make TableList our primary ticketing/table platform for New Year's Eve this year."
"Nightlife has always been this mysterious black box—a lot of people have been really afraid to go out, braving all these different doormen," Jung explains. His is a democratic, capitalist mission. "We're not for the 1%, those super-super VIPs going out once a week but for the 2% and 3% who go out once a month – we're upgrading the experience they'd normally have." By only allowing bookings up to seven days in advance, TableList offers clubs and bars the ability to fill empty tables more easily at the last-minute, Hotel Tonight-style. So far, he says the app has been downloaded around 100,000 times with 10% of those becoming active users.
It was certainly an effortless experience when Pursuits stress-tested Jung's claims on a busy Friday night in New York in late November. Booking tables at top nightclubs like Up & Down or 1Oak took a couple of minutes and a few swipes (Tablelist's roster of NYC venues is impressive, and even includes specialty elite clubs like the Box, whose co-owner Simon Hammerstein has invested in the startup). After the bookings were confirmed, the startup's local contact, Alex, wasn't fazed by a series of deliberate and constant changes, from arrival times to group sizes. His texted responses were instant, detailed and informed—even offering advice on delaying arrival to allow the crowd to build.  No wonder business is booming.
TableList, which derives revenue much like a conventional promoter skimming between 10-25% of the whatever monies are processed via the app, logged $700,000 in revenue this October in Boston and New York alone per Jung (though these, he admits, are by far its largest markets).

Not every nightlife veteran, though, welcomes the arrival of such slick Uber-style tactics. Take DJ Louie XIV, resident at New York's Hotel Chantelle. The problem with TableList, he explains, lies in its name. "Clubs are now structured around selling a huge amount of bottles to a very small group of people, who aren't usually the taste-making, cool people in the room. It's obliterated the feeling of a nightclub as a place where lots of different people come together to share a common experience."

This boom in bottle service emerged in the mid-2000s as part of a new nightlife era, one that rejected the previous approach where the whims of a doorman ruled the red velvet rope; guests could be declared VIPs only by their edict. In New York, for example, as Marquee's Wass Stevens or Bungalow 8's Armin Amiri moved into another career – both as actors – it allowed the operation of clubs to focus more baldly on the bottom line. The new nightlife motto might as well be drop money, not names. "Now, the in-joke among DJs and nightlife people is that the notion of being a VIP isn't that cool anymore," Louie continues, "If you can pull off not being on this app, then it's a sign you have a real cool factor."
The Future, the Masses
Jung intends to address the issue of table-only elitism as he develops the firm. "GA [general admission] is a big issue for a lot of people, and we want to solve that next – if bottle service is our Uber Black, that will be Uber X," he says. Indeed, venues like Hotel Chantelle can now use the app to offer line-jumping privileges for $30 or so (though, of course that still puts money ahead of making a statement) He also has plans for the equivalent of a social Kickstarter, to allow different groups to combine forces and split a pricier table, making that VIP experience more affordably accessible. Of course, Jung's also listening to feedback from his highest spending customers. For them, he says, the "top feature request" isn't about better seating, but better company – they want to be able to order so-called Atmosphere Girls, geisha-like models who will socialize with a table full of guys. 
Before it's here, it's on the Bloomberg Terminal.
LEARN MORE