The Guy Who Warned About Broken Libor Now Sees Fast-Money Financing as the New Risk
Financing from shadow banks is on the rise.
By and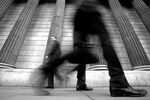 The cash that finances the U.S. economy is now coming from a spigot that is more prone to rapidly turning off in times of stress than the traditional banking system has been, according to the strategist who first brought attention to banks misstating key benchmark lending rates during the financial crisis in 2008.
The warning from Scott Peng, head of global portfolio solutions at Secor Asset Management in New York, comes as investors, analysts, and regulators fret about the recent selloff in the corporate bond market, which the strategist includes in his definition of the so-called "shadow banking system" of nonbank financial intermediaries. Such shadow banking includes all private-sector funding that isn't provided by deposit-taking banks, so it encompasses bond funds as well as hedge funds, insurance companies, and pension funds, according to Peng.
While rules imposed in the wake of the financial crisis have shored up the banking system, he argues that regulators have swapped one set of systemic risks for another. World Bank data show that the percent of U.S. private-sector funding provided by banks has fallen to almost the lowest point since 1960, illustrating the growing importance of nonbank financing.

"Since 2008, we've reformed the banking system by ring-fencing our banks with more regulatory and capital requirements," Peng told us. "But our economy is now much more dependent on the fast-money shadow-bank financing—which is more fickle in terms of extending credit and can expand or contract much quicker."
Peng was among the first during the financial crisis to suggest that the London interbank offered rate, known as Libor, was understating borrowing costs. As the then-head of U.S. interest rate strategy at Citigroup Global Markets in New York, Peng co-authored a note titled "Is Libor Broken?" in April 2008. The report, which led to a global focus on the risk that the benchmark was mispricing bank lending rates, said European banks were probably submitting lower-than-actual transacted rates to avoid "being perceived as a weak hand in a fragile market."
In August, former UBS trader Tom Hayes was found guilty of rigging Libor and sentenced to 14 years in prison. Banks and other financial institutions have since paid about $9 billion in fines tied to Libor and other key rates.
Peng predicts that the share of private financing coming from banks at the end of this year will hold close to the 20.6 percent level of December 2014, given that flows into bond funds have remained positive and bank lending hasn't risen materially.
Gross issuance of investment-grade U.S. dollar-denominated corporate bonds reached $1.23 trillion through Nov. 20, up from $1.15 trillion in all of 2014, marking a fourth successive year of record sales. In the second quarter of this year, assets in hedge funds reached a record $2.97 trillion before slipping to $2.9 trillion, according to HFR.
"The ultimate goal of post-2008 regulations should have been to keep the economy resilient against a 2008-like shock," said Peng. "Many view banking-sector reform as synonymous with this goal. It is not."