Bomb Threat Deemed Credible Closes Los Angeles School System
by
Second-largest U.S. district calls off classes Tuesday

Cancellation comes two weeks after San Bernardino attacks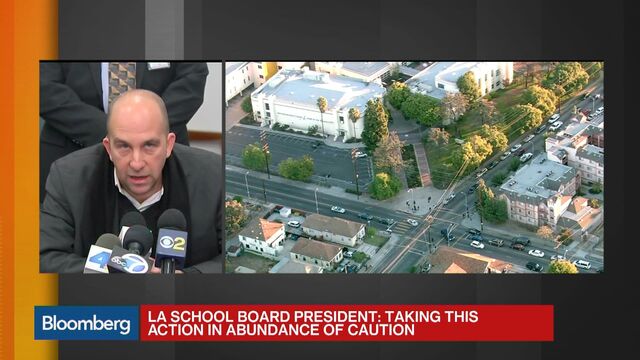 The Los Angeles Unified School District, the second-largest school system in the U.S., called off classes Tuesday after a board member received a "credible" bomb threat.
The district ordered its 640,000 students at more than 900 schools to stay home, Superintendent Ramon Cortines said in a news conference. He declined to specify the nature of the threat but said district officials were being cautious after terrorists killed 130 people in Paris last month and 14 in San Bernardino, California, less than two weeks ago.
"This is a rare threat," Cortines said. "But I will not take the chance of the life of even one student."
School board president Steve Zimmer said the threats were made to several campuses.
On Dec. 2, a pair of shooters linked to the Islamic State terrorist group killed 14 people at a holiday party in San Bernardino, about 60 miles (100 kilometers) east of Los Angeles.
Pete Boogaard, a spokesman for the White House National Security Council, had no immediate comment on the Los Angeles threat.
Before it's here, it's on the Bloomberg Terminal.
LEARN MORE