Fed Liftoff Puts Riksbank on Hold as Stimulus Era Starts to Fade
by and
Riksbank keeps size of government bond purchasing program

Policy makers keep outlook for rates to rise in 2017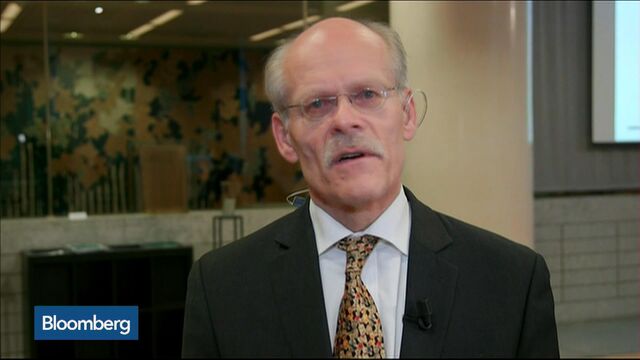 Sweden's central bank may soon find its savior in Washington.
After policy makers in Stockholm on Tuesday refrained from adding to record stimulus measures -- both conventional and unconventional -- the region's largest bank now says Governor Ingves and his colleagues have probably completed the job. The krona jumped as much as 0.7 percent to 9.257 per euro.
"We interpret it as if the Riksbank is done" expanding its easing program, Annika Winsth, chief economist at Nordea Bank, the Nordic region's biggest lender, said by phone.
The Federal Reserve's anticipated rate increase Wednesday will further ease pressure on smaller central banks such as Sweden's. The European Central Bank earlier this month also added less stimulus than predicted, sending signals that a global battle by central banks to keep their currencies from appreciating may be nearing its end.
Swedbank chief economist Anna Breman said it was "obvious" that Sweden's central bank was waiting to see whether the Fed would raise rates for the first time in nearly a decade.
"It's very likely that the Fed raises rates," she said. "But if it doesn't the krona will strengthen again, also depending on what the ECB does going forward."
The Riksbank kept its main rate at its record-low of minus 0.35 percent, anticipating that a surge in growth will propel the economy out of three years of zero inflation. The bank also kept its bond purchasing program unchanged and reiterated its outlook for rates to first rise in early 2017.
"Developments in the Swedish economy have been somewhat stronger than expected, while uncertainty remains globally," the bank said in a statement. "There has been an upward trend in inflation since last year, but it is not yet on a firm footing."
The historic measures have prompted criticism from some analysts, who argue that it's unnecessary to add stimulus with the economy growing at a healthy clip and financial imbalances widening.
Home prices have more than doubled in the last 10 years. The economy grew at an annual rate of 3.9 percent in the third quarter. Unemployment is now at about its lowest levels since 2009.
The central bank also reiterated that it's "highly prepared to make monetary policy even more expansionary."
The bank raised its forecast for economic growth next year to 3.6 percent from 3 percent and for the next year to 2.9 percent from 2.7 percent. It sees underlying inflation at 1.7 percent next year and 2.2 percent in 2017.
Before it's here, it's on the Bloomberg Terminal.
LEARN MORE