Rio Tinto CEO Says Dividend in `Strong Position' as Rivals Cut
by and
Shareholder payouts `high on our radar screen,' CEO Walsh Says

Panmure says miners should shun progressive dividend policies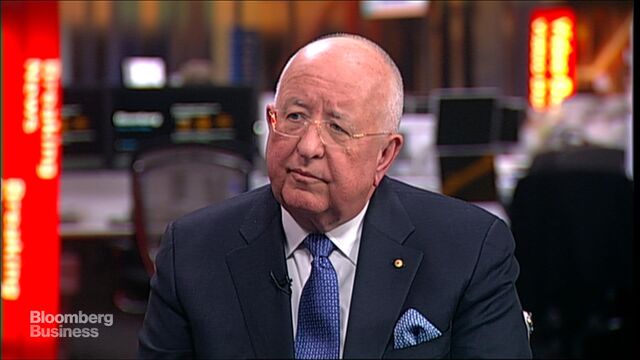 Rio Tinto Group says its dividend is safe even as collapsing prices for iron ore, its biggest moneymaker, erode profits and more rivals are forced to cancel payouts to shareholders.
"We are well positioned -- the strongest balance sheet, the least debt of any of the majors," Sam Walsh, chief executive officer of the second-biggest mining company, said in a Bloomberg Television interview in London. "It puts the dividend in a strong position."

Anglo American Plc, Glencore Plc and Vedanta Plc have scrapped payouts in recent months as they battle a slump in prices for industrial metals to a six-year low. Rio Tinto and BHP Billiton Ltd. are the only major miners still vowing to pay higher dividends each year, a policy viewed by some analysts as unsustainable given the ups and downs of the industry.
"Dividends are very high on our radar screen," said Walsh, 65, who became CEO in 2013. "Personally, for me, they are very, very important. We have shareholders who are invested in our business. They put their faith in us and I believe they need a fair return. At the end of the day, it's a board decision, it's not my decision."

Rio Tinto shares have plunged 37 percent this year as investors retreat from mining. The stock rose 1.7 percent to close at 1,879.5 pence in London on Tuesday.
Mining companies shouldn't be committing to progressively increasing payouts over time, Kieron Hodgson, an analyst at Panmure Gordon & Co. in London, said in a Bloomberg Television interview on Tuesday.
Dividend Risk
"That's something mining companies in general should not undertake," he said. "In a cyclical industry such as commodities, there are going to be boom years, there are going to be bust years. Investors, they want exposure to commodities, but they don't want exposure to the balance-sheet risk that comes with progressive dividends."
Rio Tinto's first priority in spending cash is sustaining global mining operations, costing about $2.5 billion a year, then the progressive dividend, Walsh said. New mines and operations are next, then paying down debt and more returns to shareholders, he said.
The company raised its dividend payment 12 percent in the first half to $2.2 billion even as underlying earnings plunged 43 percent to $2.9 billion. Full-year profit is set to slide 48 percent to $4.82 billion, according to the average of 24 analyst estimates compiled by Bloomberg. Iron-ore prices are down 45 percent this year. The steelmaking raw material contributed $2.1 billion, or 72 percent, of Rio's underlying earnings in the first half.
Shift in 2016?
It's possible Rio will shift away from its progressive dividend policy next year to a different payout strategy, Panmure's Hodgson said.
"Quite frankly we haven't finished the business improvement, there's more ahead of us. You can't turn around a business in two-and-a-half years, it takes longer than that," Walsh said. "2016 is going to be tough again."
Before it's here, it's on the Bloomberg Terminal.
LEARN MORE