Rio Revising Mongolia Mine Costs After $4.4 Billion Funding
David Stringer and Michael Kohn
Financing package secured for Oyu Tolgoi mine expansion

Rio says project costs to be finalized in coming three months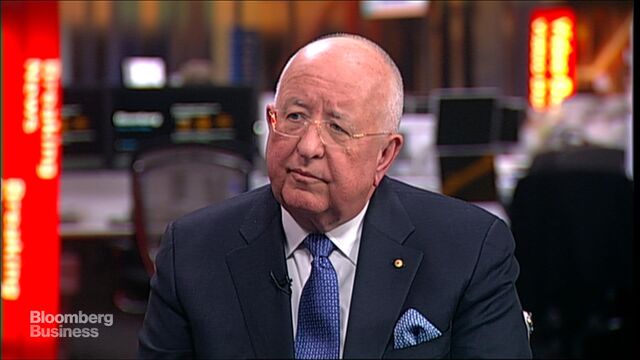 Rio Tinto Group, the world's second-biggest mining company, is revising the cost estimate to expand Mongolia's Oyu Tolgoi copper and gold mine after agreeing a $4.4 billion financing package.
The estimate for the underground expansion remains between $5 billion and $6 billion, though is being re-costed "because the market conditions have changed dramatically in the last six months," Jean-Sebastien Jacques, Rio's chief executive officer for copper and coal, told reporters Tuesday on a conference call from Hong Kong. "We should have a better understanding of the final costs of the underground early next year. "
A group of 20 lenders, including 15 commercial banks and institutions from Canada, Australia and the U.S., have agreed to provide financing, with final approval to be decided in the first half of 2016, Jacques said. The expansion of the mine, located 80 kilometers (50 miles) north of the Chinese border, will probably take five to seven years once approved, according to Rio.
While costs of items including steel, concrete and electrical wiring have fallen, labor rates in Mongolia and China have been rising, meaning it's hard to judge the likely outcome of the review, Sydney-based Deutsche Bank AG analyst Paul Young said by phone. "Intuitively, you'd think it would be cheaper, but there's been some labor-cost escalation in that region."
The financing agreement comes amid production cutbacks by Glencore Plc and Freeport-McMoRan Inc. after copper prices in London slumped to the lowest level in more than six years on prospects for the weakest Chinese growth in a generation. Rio expects the market to recover in three or four years, which is perfect timing for Oyu Tolgoi, Jacques said on the call.
"When Oyu Tolgoi is up and running, we expect the market to be in a structural deficit at that point," Jacques said. "From our perspective, Oyu Tolgoi will be part of the solution to provide the copper that's required in China or anywhere else."

Copper prices have slumped about 26 percent this year in London, their worst annual performance since the global financial crisis in 2008. Goldman Sachs Group Inc. expects global surpluses to widen every year through 2019 before the market returns almost to balance in 2020.
"Clearly, what we want is to be able to harvest the next copper cycle," Jacques said on the call. Oyu Tolgoi should see a meaningful increase in output from 2020 under the expansion plan, he said.
Turquoise Hill Resources Ltd., the Rio-controlled producer, owns 66 percent of Oyu Tolgoi and Mongolia's state-owned Erdenes Oyu Tolgoi LLC holds the balance. Once the expansion is completed, copper production capacity will rise to about 550,000 metric tons a year, a rate that's likely to rank the site as the world's third-largest, according to Wood Mackenzie Ltd.
Oyu Tolgoi is forecast to produce 175,000 tons to 195,000 tons of copper in 2016 and 210,000 ounces to 260,000 ounces of gold, Turquoise Hill said in a filing this month. The operation is expected to ramp up to full production between 2021 to 2026, according to Turquoise Hill.
Lenders for the project include the Export-Import Bank of the United States, BNP Paribas SA and Standard Chartered Plc, according to a Rio statement Tuesday. Oyu Tolgoi is seeking to raise up to $6 billion of limited recourse project finance to refinance existing shareholder funding and support development of the underground project, it said.
The all-in project finance interest rate for Oyu Tolgoi, including fees, is Libor plus six percent, Turquoise Hill said in a separate statement.
Before it's here, it's on the Bloomberg Terminal.
LEARN MORE