Qualcomm Rejects Split After Completing Strategic Review
By
Board backs keeping licensing and semiconductor units together

Stock slump, slower sales, investigations drove push for split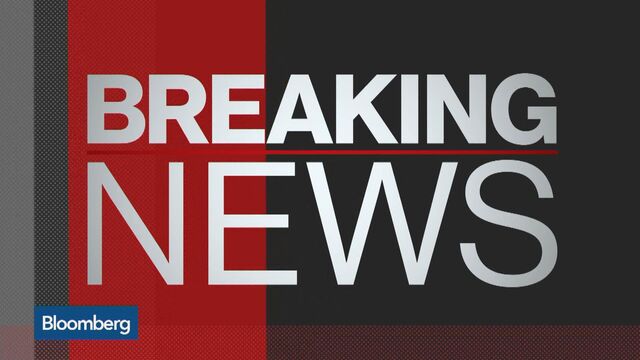 Qualcomm Inc. rejected calls to split itself in two, betting that keeping its chipmaking and patent licensing businesses together is the best formula for turning around an earnings slump and stock drop.
Qualcomm also updated the outlook for its fiscal first quarter ending this month, saying it may "modestly" exceed its prior profit forecast. Following a review of the "benefits and challenges of the existing structure," the mobile chipmaker's board and management decided, as anticipated, not to separate the two arms of the company.

"We have a focused plan in place that we believe will drive growth and we are off to a good start implementing that plan," said Chief Executive Officer Steve Mollenkopf. "The strategic benefits and synergies of our model are not replicable through alternative structures."
The challenge for Qualcomm is to convince shareholders, hit by a 35 percent decline in the share price this year, that it can return to revenue growth and fend off a growing tide of regulatory scrutiny of its business practices. Sales growth has stalled since last year, hurt by the loss of orders from Samsung Electronics Co. and as Chinese phone makers dragged their feet on paying license fees. The company is under investigation on three continents, leading some investors to argue that regulators might relent if Qualcomm gave up a bit of its dominance in the smartphone-chip market by breaking itself in two.
Qualcomm executives pointed out that regulators are investigating both parts of its business and therefore splitting them up would have no impact on that scrutiny.
"We thought there wasn't a significant difference from a legal standpoint," Paul Jacobs, Qualcomm's chairman, said on a conference call with analysts.
The U.S.'s second-biggest publicly traded chipmaker gets the majority of its profit from inventions that form the basis of modern wireless communications technology. The bulk of revenue, meanwhile, comes from selling processors and modems that run smartphones. The cash influx from royalties -- $6.8 billion of pretax income in its most recent financial year -- helps fund research and development at Qualcomm's chip unit, which in turn creates patents for the licensing business.
"I never thought a split made sense," said Stacy Rasgon, an analyst at Sanford C. Bernstein & Co. "I always thought they were worth more together than they were apart. The businesses don't work as well apart as they do together." 
Hard Look
The company, which has said it has considered splitting in the past, "conducted a deep review of the existing structure, as well as a broad study of alternatives," according to board member Thomas Horton, who led a special committee that considered scenarios, along with newly appointed directors Mark McLaughlin and Anthony Vinciquerra.
A number of banks, including Goldman Sachs Group Inc. and Evercore Partners as well as consultants, including Boston Consulting Group, were also brought in to examine and test alternatives, Qualcomm said in the statement.
Qualcomm's decision contrasts with other technology companies that have split this year. Hewlett Packard became two entities in November, EBay Inc. split with payments unit PayPal while Yahoo! Inc. is separating itself from its stake in Alibaba Group Holding Ltd. to return the asses to shareholders without incurring taxes.
Qualcomm's "two companies are completely related, they have shared technology and technology costs, and it just doesn't make sense," said Christopher Rolland, an analyst at FBR Capital Markets & Co. "This to me was the optimal outcome."
By staying in its current form, Qualcomm retains the resources to participate in what has been a record burst of chip-industry consolidation, if it sees the need, Mollenkopf said. The company may look at an acquisition as a way to speed its entry into some of the new markets that it's targeting, he said.
"We're trying to balance the combination of returning capital and keeping strategic flexibility," he said. An acquisition may also make it less risky in trying to get into a new market.
Qualcomm, which has about $30 billion in cash and $10 billion in debt, sees a place for its mobile-phone technology in the Internet of Things market, a term used to describe the addition of connectivity to everyday items ranging from washing machines to factory equipment. It's also gearing up to take on Intel Corp. in the market for server computer processors.
The decline in Qualcomm's stock price has pushed its market value to about $72 billion, compared with a peak of more than $130 billion in 2014, when it surpassed Intel to become the biggest U.S. publicly traded chip company. Talk of a split was rekindled earlier this year by activist investor Jana Partners LLC, which bought up stock in the company. Jana signed off on the strategic review, which was initiated in July and included a 15 percent employee reduction and a shakeup of the board.
The company said higher-than-expected phone sales and selling prices of handsets, the basis for calculating licensing fees, helped profit in the current quarter. Qualcomm now expects earnings per share to be "at or modestly above the high end" of previous forecasts of 80 cents to 90 cents a share, compared with analysts' average estimate of 87 cents. The stock rose 2.5 percent to $48.02 at the close in New York.
Momentum
The push for a split gathered momentum as regulators around the world announced investigations into the company. Qualcomm paid a fine to settle an antitrust case in China in February, confirming its right to charge royalties in the world's largest mobile phone market. When it imposed the $975 million fine, China's National Development and Reform Commission said Qualcomm's license fees were too high and the company used its dominant position to force customers into accepting its conditions. Payment negotiations with handset makers in the country have dragged on longer than the company expected, delaying a projected increase in revenue.
Meanwhile, South Korea -- home to Qualcomm's second-biggest customer, Samsung, is accusing it of breaking the law. Taiwan has also launched an investigation and the U.S. Department of Justice is taking a look at Qualcomm as well. In addition, the European Union has accused the company's chipset business of paying customers not to use rival products.
Qualcomm has denied any wrongdoing and said it expects to prevail in court.