markets
Puerto Rico Christmas Bonuses Pit Workers Against Investors
By
Commonwealth faces $120 million payment to public employees

Puerto Rico, agencies owe $957 million in debt payments Jan.1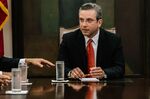 Puerto Rico Governor Alejandro Garcia Padilla runs the risk of being viewed as the Grinch who stole Christmas whether he pays holiday bonuses to employees of the commonwealth or not.
The 44-year-old governor, who announced this week that he won't seek re-election when his term expires in January 2017, faces a possible dilemma as Puerto Rico's cash dwindles: pay $120 million in bonuses by Dec. 20 or make $957 million of interest on commonwealth and agency debt due Jan. 1. Puerto Rico's constitution stipulates that officials must first pay general-obligation debt before other expenses.
For the territory, the consequences of his decision are more than about appearances. Analysts estimate an economic impact of about $150 million -- on an island that's been in a decade-long recession -- if the government distributes the holiday checks. Missed debt payments could exacerbate Puerto Rico's fiscal crisis.
"It's a very difficult decision for the government, having to decide between paying your workers and defaulting on government debt," said Sergio Marxuach, public-policy director at the Center for a New Economy, a research group in San Juan. "It's not only $120 million in direct spending. There's also the multiplier effect of that spending in the Puerto Rico economy that's going to be affected."

A 1969 commonwealth law requires the government to pay its workers a Christmas bonus if they work at least 700 hours that year, according to Jose Alameda, an economist and professor at the University of Puerto Rico at Mayaguez. Instead of implementing a raise at that time, lawmakers established the bonus to increase public-employees' salaries, Marxuach said.
"I have to do everything in my powers to pay that money," Garcia Padilla said during a press conference in Washington last week. "If I have the funds, I have no option but to pay that money."
The last day Puerto Rico can pay the bonuses is Dec. 20. The average salary of a central-government employee is $28,000, with most workers receiving a holiday bonus of about $600, according to Barbara Morgan, a spokeswoman who represents the Government Development Bank at SKDKnickerbocker in New York. The bank oversees the island's finances and is in talks with bondholders to cut its debt load.
If the commonwealth is unable to pay bondholders in full, then it shouldn't pay the Christmas bonuses, said Matt Dalton, chief executive officer of Rye Brook, New York-based Belle Haven Investments, which oversees $3.4 billion of municipal bonds, including Puerto Rico securities.
'Bad Year'
"I would put Puerto Rico in the column of bad year," Dalton said. "And guess what -- that means no bonuses."
U.S. lawmakers agreed early Wednesday, as part of a $1.1 trillion spending bill, to increase Puerto Rico's health funding by $900 million over a decade. It's Congress's first step in assisting the island and may be the last chance this year for the commonwealth to receive help from the federal government. Congress didn't include a provision that would allow some public corporations to use bankruptcy to lower their debt.
Garcia Padilla's administration will pay the Christmas bonuses only if it has the cash to make the Jan. 1 interest payment on its general obligations because those securities have the strongest legal protections among the island's various types of debt, said Daniel Hanson, an analyst at Height Securities, a Washington-based broker dealer. One option is for the governor to pay workers a portion of their bonus, rather than the entire amount, Hanson said.
Economic Impact
"Puerto Rico will do what it can to make the bonus payments, but they will not make the bonus payments at the expense of missing the Jan. 1 G.O. payments," Hanson said.
Even as the government has delayed tax rebates and suspended payments to suppliers and vendors, an index that tracks Puerto Rico's economic activity has gained recently as the economy has been able to absorb those deferrals, Hanson said. The index in October reached the highest level since April 2014 and had the biggest year-over-year gain in almost two years, according to index data posted on the GDB's website.
"It's not really clear to me that the economy is really going to respond all that much," Hanson said about the impact of Puerto Rico paying the bonuses.
Officials project an economic impact of $150 million if the government pays its employees $120 million in bonus cash, according to Morgan. Alameda, the UPR professor, estimates a combined economic benefit of about $140 million from central-government, municipal and private-company bonuses. Workers tend to spend that money on holiday gifts and entertaining rather than investing the bonus or keeping it in a savings account, Marxuach said.
"It was never meant to be a Christmas bonus because we like Santa Claus," Marxuach said. "It's actually part of their core compensation package if they work the required number of hours."
— With assistance by Kate Smith, and Kathleen Miller
(
Adds a bar chart on pending debt payments.
)
Before it's here, it's on the Bloomberg Terminal.
LEARN MORE