Osborne's U.K. Living Wage to Cost Employers 1.1 Billion Pounds
by
Higher minimum wage next year will push up business expenses

Lobby groups urge government to cut taxes to compensate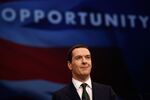 U.K. Chancellor of the Exchequer George Osborne's plan to reduce the welfare bill by forcing companies to pay staff more will cost employers 1.1 billion pounds ($1.7 billion), a government regulator calculated.
After this year's general-election campaign, in which the opposition Labour Party pushed for more employers to pay the independently set "living wage" of 8.25 pounds an hour, Osborne announced he was rebranding the government's minimum wage as the national living wage and setting it at 7.20 pounds an hour, starting in April 2016. That's up from the current 6.70 pounds. At the same time, he announced large cuts in welfare payments to working families.
The Regulatory Policy Committee put the bill at more than 800 million pounds in direct wage costs, 280 million pounds in the cost of maintaining wage differentials for people earning just above the minimum wage and 23 million pounds in transition costs. It will also increase unemployment by about 9,000 people, it said in a report published Monday.
Seamus Nevin, head of employment and skills policy at the Institute of Directors, said Osborne needs to cut other taxes on business to compensate.
"Worryingly, however, the chancellor's 1 billion-pound living wage is not the only extra cost businesses have been hit with," he said in an e-mailed statement. "It is imperative that the government now comes good on its promise of less red tape, fewer regulatory hurdles and a lower rate of corporation tax to help employers absorb these additional costs and raise pay."
Before it's here, it's on the Bloomberg Terminal.
LEARN MORE