Oil Rout to Claim More Victims After First Norway Bankruptcy
by and
Drillers seen next in line as contracts run out: Clarksons

Norwegian oil investments falling the most since 2000
The collapse of oil prices has claimed its first bankruptcy victim in Norway's offshore industry, and analysts warn more may follow.
Dolphin Group ASA, a seismic surveyor that maps the seabed for oil and gas reservoirs, became the first Oslo-listed company in the industry to file for bankruptcy Monday. One of its competitors, Polarcus Ltd., is in talks on restructuring debt -- but the threat won't stop there, with insolvency cases bound to multiply among drillers as well, analysts say.
"Drilling companies might be next in line," said Eirik Rohmesmo, a credit analyst at Clarksons Platou Securities AS. "Drillers are now living off their existing contracts taken out at market peak, but these are running out."
Oil producers are cutting spending globally to cope with a plunge in oil prices and there is likely to be little let up next year, with Brent crude hitting a new seven-year low Monday at $36.33 a barrel. Investment offshore Norway will this year fall the most since 2000 and is expected to fall further next year.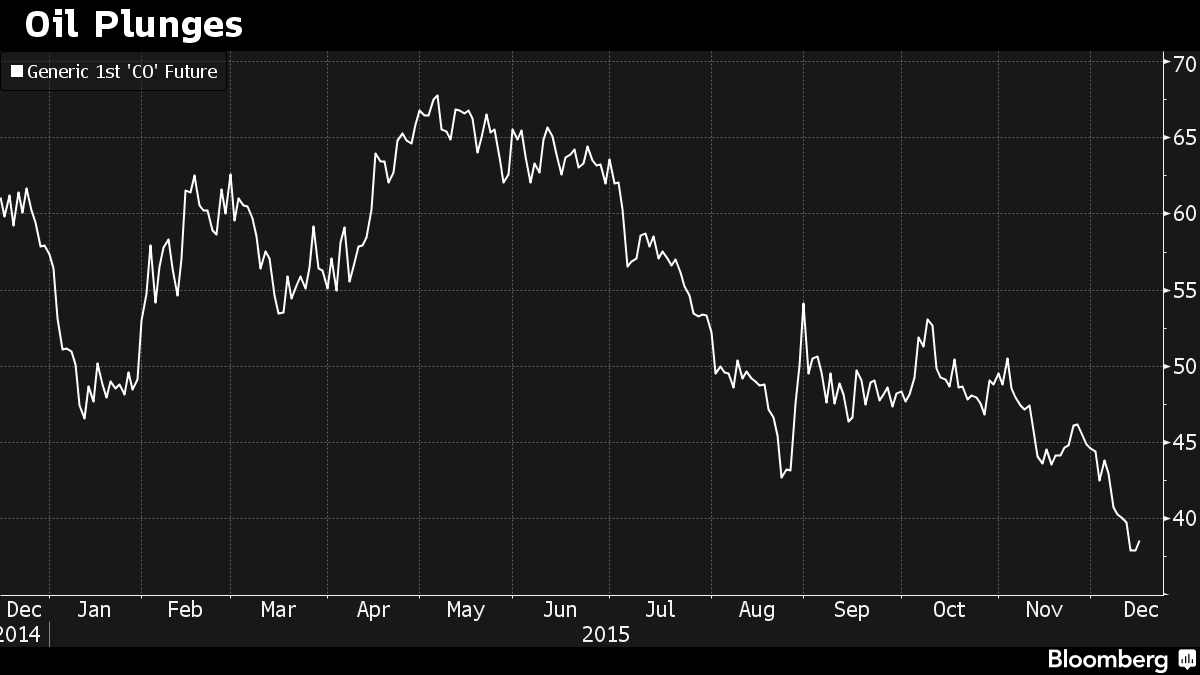 "There will clearly be more" bankruptcies, Lars Kirkeby, chief credit analyst at Nordea Markets in Oslo, said by phone. "There will gradually be challenges for many supply shippers and, later on, for rig companies."
Producers and other service companies are also being squeezed. Even as Statoil ASA on Tuesday announced almost $3 billion in new offshore maintenance contracts, news emerged that it's offering all its employees a buyout option, according to Stavanger Aftenblad. Norway's biggest oil producer is seeking to reduce its workforce by almost 4,500 in the three years through 2016 as lower oil prices puts pressure on the Norwegian offshore industry, which accounts for about a fifth of gross domestic product.
Norway's biggest offshore engineering company, Aker Solutions ASA, said it may now need to cut further jobs and close down offices after it failed to win the contracts from Statoil.
But seismic companies have been first in line to tackle the slump since they tend to operate in the short-term market rather on long-term contracts.
Dolphin's petition is "a bad sign for Polarcus," which is already in debt restructuring talks, Haakon Johansen, an analyst at Fondsfinans ASA, said in an interview. "Whatever happens, it won't be a nice experience for current shareholders, who will suffer a significant dilution."
Polarcus' CFO, Tom Henrik Sundby, said "the company will not start speculating on the outcome of the ongoing discussions," noting that as of last week it had a cash balance of about $68 million.
Dolphin has about 900 million kroner ($104 million) in bonds outstanding and Polarcus has about $360 million in krone and dollar-denominated bonds.
Some larger seismic companies have been able to find help in the stock market. Petroleum Geo-Services ASA raised 920 million kroner ($106 million) in share sales and French rival CGG SA proposed last week a sale of as much as 350 million euros ($383 million) of new shares.
Offshore drillers, already starved for contracts, are headed for a worsening crunch next year as 61 floating rigs come off contract and 16 new ones arrive on the market, according to figures from Bloomberg Intelligence. 
In the U.S., Vantage Deepwater Drilling Inc. and Hercules Offshore Inc. have both filed for bankruptcy protection.
"If oil prices stay at $37 a barrel, it will be tough for a lot of companies and we'll see more bankruptcies going forward," Johansen said. "We have yet to see the big bankruptcies in the rig market. They will come."
Before it's here, it's on the Bloomberg Terminal.
LEARN MORE