Oil Tumbles to Six-Year Low After U.S. Crude Inventories Surge
by
Crude stockpiles swelled by 4.8 million barrels last week: EIA

Congress agrees to lift restrictions on crude sales overseas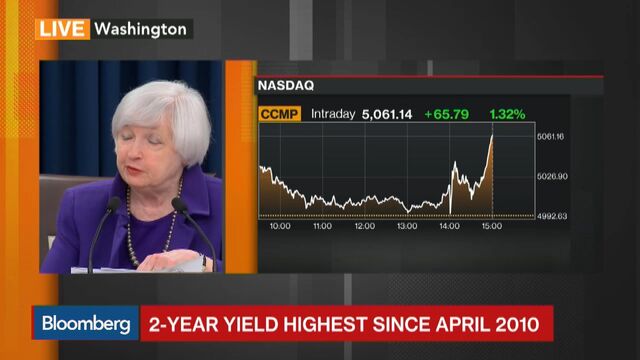 Oil closed at the lowest level in more than six years after U.S. crude inventories climbed to the highest recorded for this time of year since 1930.
Crude supplies rose to 490.7 million barrels last week, leaving stockpiles more than 120 million barrels above the five-year seasonal average, government data showed. The discount of crude in New York to global marker Brent earlier dropped to an 11-month low amid expectations that a 40-year-old ban on most American crude exports will be lifted. Futures maintained losses after the Federal Reserve raised interest rates for the first time in almost a decade.
Oil is trading near levels last seen during the global financial crisis after the Organization of Petroleum Exporting Countries effectively abandoned output limits to defend market share. An agreement between Iran and world powers also has raised the prospect of increasing shipments from the Persian Gulf nation. U.S. congressional leaders agreed on a plan that would avert a government shutdown and lift restrictions on shipping domestic crude overseas, House Speaker Paul Ryan told fellow Republicans.
"All the big themes right now are seen as bearish," said Mike Wittner, head of oil-market research in New York at Societe Generale SA. "We've been moving on sentiment, which is negative. There will have to be a strong bullish catalyst to change that."
Moving Spread
West Texas Intermediate oil for January delivery dropped $1.83, or 4.9 percent, to close at $35.52 a barrel on the New York Mercantile Exchange. It's the lowest settlement since February 2009. The volume of all futures traded was 32 percent above the 100-day average at 3:01 p.m.
Brent for January delivery, which expired today, fell $1.26, or 3.3 percent, to $37.19 a barrel on the London-based ICE Futures Europe exchange. It was the lowest close since Dec. 24, 2008. The more-active February contract slid 3.5 percent to $37.39. 
WTI futures for January closed at $1.67 a barrel below Brent after shrinking to as little as 20 cents, the smallest discount in a year. The WTI February contract earlier traded at a premium to the international benchmark for the first time in five years
Nationwide crude stockpiles rose 4.8 million barrels in the week ended Dec. 11. Crude supplies at Cushing, Oklahoma, the delivery point for WTI futures and the nation's biggest oil-storage hub, rose 607,000 barrels to 60.1 million, the highest since May.
Surging Imports
Crude imports climbed 3.6 percent to 8.31 million barrels, the highest since September 2013. U.S. crude production rose by 12,000 barrels a day to 9.18 million in the week ended Dec. 11.
Refineries reduced operating rates by 1.3 percentage points to 91.9 percent last week. A 0.8 percentage point gain was projected.
"Prices are going to go as low as they have to change behavior," said Rob Haworth, a senior investment strategist in Seattle at U.S. Bank Wealth Management, which oversees $128 billion of assets. "We're still pumping too much oil and storing it and until that stops prices will be under pressure."
Limits on U.S. crude exports would be lifted immediately, according to a bill released early Wednesday by the House Appropriations Committee. The change would allow the president to impose restrictions on exports for national-security reasons and in case of a shortage. The House plans to vote Thursday, Representative John Kline, a Minnesota Republican, said after meeting with fellow party members.
Too Much
"In the short-term, I don't really think it matters," said Jason Schenker, president of Prestige Economics LLC in Austin, Texas. "There is too much oil out there."
The U.S. restricted crude exports during the energy shortages of the 1970s. Producers including Continental Resources Inc., Pioneer Natural Resources Co. and ConocoPhillips have been pressing for an end to rules that block overseas shipments of most raw, unprocessed oil while not curbing sales of refined products such as gasoline and diesel.
Diesel and gasoline futures dropped after fuel inventories rose. Stockpiles of distillate fuel, the category that includes diesel and heating oil, climbed 2.56 million barrels to 152 million.  Gasoline supplies increased 1.73 million barrels to 219.4 million.
Diesel for January delivery fell 3 percent to close at $1.1122 a gallon, the lowest close August 2004. January gasoline slipped 0.9 percent to settle at $1.2328 a gallon. 
(An earlier version of this story corrected the change in gasoline and diesel inventories.)
Before it's here, it's on the Bloomberg Terminal.
LEARN MORE