Kerry Signals Progress at Talks With Putin on Syria Settlement
Stepan Kravchenko and Henry Meyer
U.S., Russia agree steps to make Syria strikes more effective

UN resolution sought on Syria after Friday meeting in New York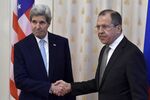 U.S. Secretary of State John Kerry said he's made some progress after more than three and a half hours of talks with Russian President Vladimir Putin aimed at breaking a deadlock over resolving the Syrian civil war to focus on combating Islamic State.
"We did reach some common ground today," Kerry said at a joint news conference in Moscow with Russian Foreign Minister Sergei Lavrov late Tuesday. "We want the same outcomes, we see the same dangers, we understand the same challenges."
Lavrov said that Russia and the U.S., which are both conducting air campaigns in Syria, agreed on some steps "to make our parallel work more coordinated and effective." Differences remain on which Syrian groups are considered terrorist and work will continue on that at an international meeting on Syria in New York on Friday, he said.
The top U.S. diplomat's second visit to Russia this year for meetings with Putin and Lavrov, following eight hours of talks in Sochi in May, comes as the U.S. seeks to use the negotiations in New York to pursue efforts for a cease-fire and an interim power-sharing government in Syria. The U.S. and allied nations want Syrian President Bashar al-Assad to leave office as part of a resolution to the civil war, while Russia opposes the move and says it's a matter for the Syrian people.
Assad Future
Russia began a campaign of airstrikes Sept. 30 in Syria in support of Assad against Islamic State and other militants. The U.S., which is leading a coalition bombing Islamic State, has said the Kremlin is mainly attacking other groups opposed to Assad, including some supported by the administration in Washington.
The U.S. doesn't believe Assad has a future in leading Syria, though it isn't seeking regime change, Kerry said. "We focused today not on our differences about what can be done immediately about Assad. We focused on process, on political process where Syrians will be making decisions for the future of Syria," he said.
Kerry earlier said he appreciated Putin's efforts to find a solution in Syria, and that the U.S. and Russia together have "an ability to be able to make a significant difference here." Agreements reached at two recent rounds of international talks on Syria in Vienna marked a "strong beginning, opening up possibilities," he said.
UN Resolution
Russia and the U.S. will seek a vote at the United Nations Security Council in support of those agreements after the talks in New York, Lavrov told reporters in Moscow on Wednesday. A UN resolution will give added weight to the commitments made in Vienna and "I'm practically sure that nobody will attempt to break the consensus that's been achieved," he said.
A November meeting in Vienna set a Jan. 1 date for dialogue to begin between the Syrian government and opposition groups. That goal remains, though the State Department on Friday called it a "target date, not a deadline."
Russia wants to reach agreement "as soon as possible" for the talks to start on Jan. 1, Foreign Ministry spokeswoman Maria Zakharova told journalists in Moscow on Wednesday. "Unfortunately, it's a very difficult issue and resolving it isn't going as quickly as we would like," she said.
Disagreement over which Syrian opposition groups should take part in the peace negotiations, as well as the list of terrorist groups that would be excluded, has been holding up the process. While all sides agree that Islamic State and the al-Qaeda affiliated Nusra Front can't be part of any settlement, there are other groups that not all recognize as terrorist, Lavrov said.
'Defeat Daesh'
Lavrov said the UN envoy to Syria, Staffan de Mistura, would make proposals on the opposition delegation for talks with Assad's government.
A Saudi-sponsored meeting of the Syrian opposition last week in Riyadh, intended to form a united platform for talks with the Assad government, included groups that Russia considers "close to terrorist," said Vitaly Churkin, Russia's envoy to the UN. The U.S. in contrast welcomed the Riyadh opposition meeting as a "milestone."
Assad only controls a quarter of Syrian territory, though about 60 percent of its population, after almost five years of civil war that has killed about 300,000 people and displaced millions.
"I reaffirmed to President Putin that the U.S. stands ready to work with Russia to defeat Daesh, provided obviously that Moscow chooses to direct its fire on the real threat, which is Daesh," Kerry said, referring to Islamic State by its Arabic acronym. "I made clear about our concern that some of Russian strikes have hit the moderate opposition."
Kerry said he and Putin also had a good discussion on the conflict in Ukraine, which has provoked the worst period in relations since the Cold War. Russia, which has been accused by the U.S. of continuing to encourage separatists in eastern Ukraine, agreed on the need to implement a February peace accord signed in Minsk, Belarus, and there were concrete ideas for making it more effective, Lavrov said.
Before it's here, it's on the Bloomberg Terminal.
LEARN MORE