Jefferies Trading Revenue Falls 36% as Fixed Income Tumbles
by
Investment-banking gains contribute to earnings rebound

Bond-trading revenue plunges 83%, equity trading down 22%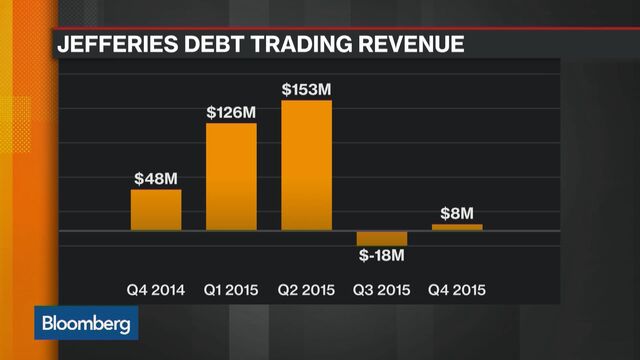 Jefferies Group, the investment bank whose trading results are seen as a bellwether for Wall Street firms, said fourth-quarter revenue from that business fell 36 percent as fixed-income sank for a fourth straight quarter.
Revenue from trading stocks and bonds dropped to $132.1 million as fixed-income tumbled 83 percent and equities declined 22 percent in the three months ended Nov. 30, the New York-based company said Tuesday in a statement. Firmwide revenue slipped 2.2 percent to $513.1 million. Gains from investment banking and lower costs helped push net income to $24.7 million, compared with a loss in the prior year's fourth quarter.
"Almost all our fixed-income credit businesses were impacted by the prolonged anticipation of the lift-off in Federal Reserve rate-setting, the collapse in the global energy markets (where we have long been an active adviser, capital raiser and trader), reduced originations in leveraged finance and meaningfully reduced liquidity," Chief Executive Officer Richard Handler, 54, said in the statement.

Investors watch Jefferies's results for clues about trading at the bigger investment banks, which report results a month later. Top officials at Bank of America Corp., Citigroup Inc., and Morgan Stanley have suggested in recent weeks that the worst might be behind them after Wall Street struggled with lower trading revenue for years, cutting costs and jobs.
Several banks have acknowledged doubts about how quickly the bond-trading business will bounce back after revenue fell by more than half since 2009, though JPMorgan Chase & Co. Chief Financial Officer Marianne Lake said an expected increase in interest rates could benefit those businesses next year.
Since purchasing Jefferies in March 2013, Leucadia National Corp. has fallen more than any other company on the S&P 500 Financials index.

"Jefferies's business is not as big and diverse as most of the bulge-bracket firms -- they're more dependent on high-yield and more dependent than most, within that, in energy," Chris Kotowski, an analyst at Oppenheimer & Co., said by phone from New York before earnings were released. "So some of their key spheres of activity have been under pressure in the last 15 months or so."
Handler said Jefferies cut its exposure to distressed-energy trading to $39 million from $70 million at the end of August. The company's losses in the sector had totaled $90 million through the end of the third quarter, he said in September.
The firm expects its fixed-income business to return to "normal profitability" in 2016, and is taking steps to reduce volatility and risk, Handler said Tuesday. The company reduced its balance sheet by $6 billion from the end of last year to $38.5 billion, and dropped its leverage to the lowest level in about seven years.
"It's not just that the trading results were pressured, but also as they're de-risking the balance sheet, as they're selling inventory into a challenging market, that's further impacting the results in the sense that they may have to sell at lower prices," Nathan Flanders, an analyst at Fitch Ratings, said by phone from New York.
Despite a 48 percent decline in revenue from bond underwriting, overall income from investment banking rose 18 percent to $372.9 million, led by Jefferies's advisory business.
"This year's problem child may well be their most profitable franchise in 2017, you don't know," Oppenheimer's Kotowski said. "What you want to see is that they generate a decent return on equity in 2016. I think 2015, certainly the fourth quarter of 2015, is kind of a write-off."
Before it's here, it's on the Bloomberg Terminal.
LEARN MORE