How NFL Thursdays Could Break the Internet
The league isn't convinced that the Internet has the capacity to replace televised football games.
by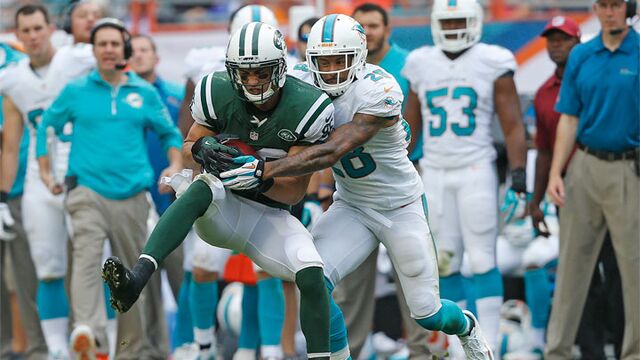 The NFL will auction off the broadcast rights to its slate of Thursday night football games in January, and the league's executive vice president for media, Brian Rolapp, says it's "theoretically possible" that a company such as Google or Apple could win exclusive rights to show the games. Big tech companies have expressed interest in pursuing such deals in the past, and this fall Yahoo licensed the rights to produce the first free, global live stream of an NFL game. A one-year deal for Thursday games might seem like a logical next step.
It isn't—not this year. Aside from any wariness the NFL has about undermining relationships with traditional television distributors, the people who run the league aren't convinced that the Internet can handle live streaming on the scale of pro football. Many Internet infrastructure companies agree, a reminder that technical challenges could be a major obstacle to a future where the Web eats TV.
Don't get Rolapp wrong, the NFL is intrigued by streaming. While the league tends to sell its broadcast rights in long-term deals, it keeps its Thursday deals to one or two years expressly so it can experiment. "Thursday is where we could start testing models for the future," Rolapp said last week in a podcast with Recode.net's Peter Kafka.
But making a full season of prime-time matchups available online is much harder than streaming one early-morning matchup between two bad, small-market teams. There was a reason the NFL chose to give Yahoo the Buffalo and Jacksonville game at London's Wembley Stadium on a Sunday at 9:30 a.m. ET. Yahoo said it drew an audience of 15 million people, a number that includes anyone who watched any part of the live stream, including those who visited Yahoo.com during the contest, where the game was set to play automatically.
Yahoo said the average stream lasted for just 13 minutes, meaning the number of people watching the game at any one time—what people who run the Internet refer to as "concurrents"—was much smaller than 15 million. Rolapp says concurrents peaked at around 3 million for the Yahoo stream.
That far exceeded the peak of 1.3 million concurrent viewers that NBC drew for its live stream of this year's Super Bowl. Then again, it's nowhere near what a popular NFL game draws on television. "Can the Internet right now sustain 30 million concurrents consistently? I think there's an open question about that," said Rolapp.
Anything anywhere near that scale would strain the capacity of the Internet at multiple points in the signal's journey from a football stadium to a cord-cutter's mobile device. After a sporting event is shot and sent through an onsite production truck for distribution, its next stop is a technology company such as Major League Baseball's Advanced Media, which also handles streaming for such clients as the National Hockey League and HBO. MLBAM compresses the signal, inserts advertisements, and fields incoming requests from viewers who need their credentials certified before they can start watching.
During a live event, everyone tends to show up at once, which means that a distributor like MLBAM has to arrange with a content delivery network to set aside enough servers and transportation capacity for the prekickoff rush. These networks—such companies as Level 3 and Akamai—can handle a surge like that, but only on a special-occasion basis, argues Bob Bowman, MLBAM's chief executive. "Is there enough hardware to do it one time? The answer is yes. Could you do it once a week? Difficult," he said. "All that hardware costs money."
Akamai and Level 3 say they're racing to expand capacity as more information flows over the Internet. Level 3 claims its network's capacity has increased 80 percent just this year. Still, the companies have a hard time saying exactly where the breaking point of the Internet is today, or how high it can be raised in the near future. "There's definitely an active debate around this. The hard limit today isn't well defined," said Jon Alexander, senior director of product management for Level 3's media and entertainment products.
Even if his company can pass along the signal, it could get stuck when it reaches the networks that regular people use to get online. "In New York on Verizon you might have capacity, and in Texas on AT&T you might not," said Alexander.
All the companies cooperating to carry these signals along have also been fighting to dump the costs on their partners. The fight over net neutrality spilled into public view last year largely as a series of spats between Netflix and Internet providers, or between Internet providers and content delivery networks. If the masses are going to watch football online, it will require billions of dollars of investment by content delivery networks and residential Internet providers. Building enough capacity to put a dent in television viewing may not even be possible, said Dan Rayburn, an analyst at Frost & Sullivan: "It's an unworkable idea, even down the line."
Live video is an even harder problem than the one facing Netflix, which can put parallel versions of its video collection onto servers spread around the world and send viewers to the closest ones. That's not an option for streaming sporting events, where the signal has to move from a single source and can't be prepared in advance.
The solution for live events may be to constrain the audience. Charging for online access would do the trick. "That would limit the number of people who would be coming through," said Bowman. "For live events, we believe in subscription services."
The decision to test Yahoo with the Jaguars-Bills—a game with limited appeal—was a way to avoid quality issues. That deal also allowed viewers in Jacksonville and Buffalo to watch for free on local television. The NFL could sell online rights separately from television rights, which would drive many people to TV and limit the strain on the digital broadcast. This could happen either through a deal with, say, CBS, in which the NFL would get to show the games on television and on its website, or through deals with separate television and digital broadcasters. This would unquestionably annoy its television partners. It also might drive down the price for the TV rights.
These deals would allow the NFL to experiment and keep digital squarely as a supplement to traditional broadcasting, a less disruptive step for a league that doesn't seem dissatisfied with its current business model. As an added bonus, the NFL could worry a little less about breaking the Internet.
Before it's here, it's on the Bloomberg Terminal.
LEARN MORE